Taxi Insurance
Driving a taxi is a stressful and difficult job. It involves spending long hours on the road, typically in a built up urban environment, dealing with the traffic and chaos which comes with city life. Accidents are unavoidable, especially when you spend that much time driving and factor pedestrians and other vehicles into the equation. Even if you are the most careful, experienced driver out there, it will not stop another driver from crashing into you!
This is why it is crucial to have the correct coverage from your taxi insurance policy in order to protect you, your passengers and your vehicle. We understand that this is your livelihood, so you need to be back on the roads and working again as quickly as possible.
With the help of our expert insurance providers, we will work hard to help you find a policy to suit your own specific needs.
Taxis fall into two categories: private hire and public hire. Black cabs are public hire taxis, but are in a league of their own. You can find out more about insuring your Black Cab here.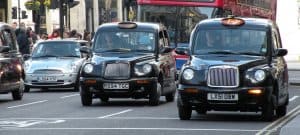 Private hire taxis must be pre booked and cannot simply pick up passengers from the street. They are also forbidden from displaying a 'taxi' sign. However, because they are pre booked it therefore puts them at less risk which in turn brings down the price of their insurance premium.
Public hire taxis can also be pre-booked, but unlike private hire taxis, they can be hailed anywhere and pick up passengers wherever they choose. It tends to be public hire taxis which operate at night, often dealing with drunk and boisterous passengers, which increases the risks involved for the taxi driver. This is why insurance premiums are often higher than for private hire taxis; that having been said, public hire taxi drivers tend to be older and their cars newer, which some providers will look at favourably and reduce their policies accordingly.
If you own a taxi company or need to insure multiple taxis, then it could be worth checking out our fleet insurance page.
Policy Features
As with any vehicle insurance policy, there are three different options available:
Third party only – only covers any damage or injury caused to others as a result of your actions
Third party, fire and theft – same as above, yet covers you for damage caused by fire or loss due to theft
Fully comprehensive – This is the highest level of cover available for a car, and covers not only damage to others but includes your own vehicle too
Although the legal minimum requirement is third party insurance, we would recommend getting fully comprehensive insurance if it is within your budget to do so. You may be saving money now, but 6 months down the line when you have an accident and are held personally liable, you could end up paying a whole lot more.
Key policy features to consider
Loss of Earnings – As your car is your livelihood, without it you cannot earn a living. This will cover you should something go wrong with your taxi.
Legal Fees – Working in a public space always increases the risks of an accident, as there are some many different variables at play, especially in a built up, urban environment; even the most experienced driver cannot prepare for the unexpected. If you do end up having an accident and are taken to court, legal fees can easily run into the thousands, so this is a very important part of your policy.
In Vehicle Cameras – Installing cameras in your taxi will lower the price of your premium and can also be used to back up any testimony in court should you have an accident. Having video footage of the event will be beneficial to both parties involved as it provides clear evidence of exactly who was at fault etc.
Windscreen and Glass Cover – Glass is one of the costliest things to replace, and covering the number of miles a taxi does increases the chance of it getting damaged or chipped. A damaged windscreen will prevent you from working and therefore from earning too.
Instant Documentation Available – We want you to be able to work as quickly as possible which is why some of our partners offer instant documentation. Rather than making you wait for your policy certificate once it has been approved, you can print it out instantly.
Car Hire Cover and Vehicle Replacement – Accidents can often result in a trip to the garage, which means waiting to get your taxi fixed and being unable to work in the meantime. With this feature, you will be provided with a replacement taxi or have the cost of hiring a replacement covered.
Public Liability Insurance – If a member of the public suffers personal injury or if property is damaged due to your business, it will cover the costs of any legal expenses or compensations claims made against you. This is particularly important for self-employed taxi drivers, because there is nobody else to hold accountable in the case of an accident.
Flexible Payments – insuring your taxi can be expensive, which is why many insurers offer monthly, quarterly or annual payments, depending on which one best suits your needs. To keep costs down, we recommend making one annual payment.
Fast and Simple Claims Process – Often, claiming on your policy is more complicated than setting it up in the first place. Companies will put as many hurdles in your path as they can to prolong the paying out process. Our partners have a straightforward and reliable claims process, and will endeavour to process your claim as quickly as possible.
Protected No Claims Bonus – In case of an accident which is not your fault, your no claims bonus will not be affected.
24 / 7 Customer Service – Taxi drivers often work unusual hours, and as we all know accidents can happen at any time. This is why we have a dedicated team of experts on hand at any hour of the day.
Breakdown Assistance – The longer you are off the road, the longer you are not earning. Breakdown assistance is a sensible thing to include in your policy, in case you end up taking a fare somewhere remote and you end up stuck by the roadside with a broken down taxi.
Check the list carefully and decide exactly which policy features are relevant for you; being under-insured can be a disaster, and being over-insured is an unnecessary expense. When calculating a quote, insurers also take into account the age of the driver, their driving history and the value of the vehicle being insured.
So if you want to get a quote from our range of expert providers, then make sure you fill out an online quote form today!