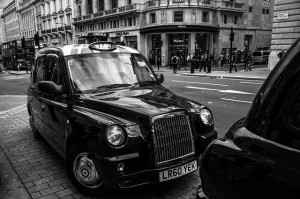 In 2014 there was a huge change in the taxi industry with Uber bringing their taxi App to London, rustling a number of taxi drivers' feathers. We also saw other taxi Apps being launched including Hailo and GetTaxi, with some claiming that these Apps could potentially change the landscape of the UK taxi industry by the end of 2015. We previously spoke about how UK taxis are going to adapt for the future but we certainly never predicted this…
If you were to visit London ten years ago the roads would look completely different with less private taxis and more black cabs. However nowadays people would rather use taxi Apps to pick them up (much to black cab drivers' dismay) mostly due to the fact that they offer cheaper fares. Customers claim that they also feel safer when using taxi Apps such as Uber as most of them have some sort of tracker in place. However at the same time these Apps could completely demolish the history of the black cab and the UK taxi industry.
When Uber came to London there was a huge uproar from the black cab industry because they offered such low fares. Black cab drivers were worried that Uber was going to kill the black cab industry so they formed a blockage in different areas of London to protest against the App. Around five thousand black cab drivers took part in the protest with another two being held in the space of just three months.
Another controversial taxi App launched in 2014 was Maaxi which allows passengers to share rides in London black cabs in order to save money. The inventor of the app, Nat Rothschild, claims his App could save the taxi industry however this is not the only taxi App that has made this claim. On the other hand, studies have shown that sharing taxis could cut road times by up to 40% as well as save passengers money.
During 2014 there was also a boom in women-only taxi firms opening in the UK due to people worrying about their safety when getting into a cab. Maggie Hennessy, owner of London Lady Chauffeurs, said: "A lot of our business comes from husbands who want to make sure their wives are OK, especially in the evenings. We refuse to take male passengers. A lot of people say they find it refreshing to find a female driver."
This type of service is ideal not only for women traveling late at night on their own but also mothers with young children. Maggie said: "Parents feel safer. They can track us and check we've arrived safely."
Pink Ladies are another woman-only taxi company, with 26 year old Laura Taylor, one of the youngest drivers there, saying: "You have regular customers and get to know them. I treat everyone like they're one of my family. I wouldn't drive a traditional taxi, I'd feel too much at risk."
In 2015 we expect even more changes to the taxi industry especially as there has already been a court ruling confirming that private hire taxis are not allowed to use bus lanes. The EU Court is favouring the law because the service that black cabs offer differs to private hire vehicles, mainly as they pick up passengers without any bookings.
Discussing the law, Simon Neill, a lawyer at Osborne Clarke, said: "Today's decision is yet another bad news story for private-hire vehicles this week, with Uber being banned in Beijing and now the ECJ endorsing the status quo in London."
So what will 2015 bring? Well, if it's anything like 2014 there will be a massive change within the taxi industry with more Apps and laws, however when will it all end?!
Photo by Pixabay