We Partner With

​Why QuoteSearcher for Motorbike Insurance?
Owning a motorcycle takes you onto the open road in an entirely different way than a car does. There is probably no greater feeling for riders than the freedom of traversing the length and breadth of the UK on a powerful, beautifully-made machine.
With any motorised vehicle, there are risks, and many of these are heightened for motorbike owners. The risks of accidents, not being seen my other motorists, the theft or vandalism of your bike, among other things, mean that comprehensive motorcycle insurance is vital.
If you are searching for a motorcycle insurance quote, but you're not sure which broker is the best for you, why not let QuoteSearcher do the hard work for you? We'll bring the very brokers directly to you, so you can compare motorbike insurance from trusted companies – all you need to do is full out a simple form to get started.
Policy Features for Motorbike Insurance
Breakdown Cover
Covers the cost of roadside assistance or recovery in the event of a breakdown. Learn more about Breakdown Insurance.
Classic Bike Insurance
Offers specialist cover for special vintage motorbikes, like Triumph and Harley Davidsons
Modified Bike Insurance
If you have made any changes to the manufacturer standard, this will ensure protection
Limited Mileage Cover
If your motorbike is not your main vehicle, you can save with this feature to your policy. Find out more about Limited Mileage Insurance.
Pillion Cover
If your license allows you to carry passengers, you should have pillion cover
Helmet and Leathers
This will cover the cost of replacing your helmet or leathers if they are damaged or stolen
Types of Motorcycle Cover
​With all motor vehicles, you are legally obliged to have a minimum level of insurance, the three levels to choose from are:
Third Party Only (TPO) – this is the legal minimum requirement for your motorbike insurance. It protects you from claims made against you by a third party
Third Party, Fire & Theft (TPFT) – this offers protection against third party claims, as well as fire damage and theft
Fully Comprehensive – this will give you the highest level of cover, protecting you against a number of elements. You should discuss what is included with a fully comprehensive policy with your broker, there will also be a number of optional extras which may apply to your particular motorbike or lifestyle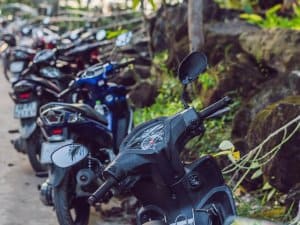 Types of Motorbike
​When searching for comprehensive motorcycle insurance, you need to know the various categories of motorbikes. Insurers classify 6 types, which are:
Sports bike
Scooters and mopeds
Naked bikes
Custom/cruisers
Adventure sport
Touring motorcycle
Your bike insurance cost will depend on the type of motorbike you have and what you use it for. Sports bikes are likely to be more expensive to insure, as brokers view higher-powered vehicles as being in accidents more frequently than those with a smaller engine. Prices will also be higher for adventure sports bikes and custom or vintage models.
Some people enjoy owning classic motorcycles but do not use them as their main vehicle. In this instance, limited mileage cover may help bring down the price of your premium. In a similar vein, modified motorbikes may also be driven only on specialist tracks, so these types of bike could also benefit from limited mileage cover.
Very good and easy to use, this has not only saved me money but also saved me a lot of phone calls and time, thank you.
Excellent!! No hard sell. The guy I spoke to was very helpful but straight to the point. Asked me all the relevant questions and I found a brilliant policy at an amazing price.
Let us find the right motorbike insurance for you...