Isuzu Truck Insurance
Isuzu truck insurance includes many of the policy elements that you would expect to find for trucks on UK roads. From protecting the vehicle, you as a driver, and your personal possessions carried within, there are many features you can choose to include as part of your policy. Ranging from the mandatory to the optional, these will depend on the various circumstances of the owner and the vehicle itself.
What You Need to Know About Isuzu Truck Insurance
Isuzu truck insurance requires a broad range of policy features. This is due to the fact that Isuzu produce vehicles of great variety, from pick-ups to heavy trucks. Not only does each of these require different focuses, they will often be used for an array of contrasting jobs from the private to the commercial. On top of this, the brand has a thriving used vehicle market, the age and condition of each making the options even more complex. Thankfully, Isuzu vehicles are well catered for by insurance providers, with some of the best offering sound advice as well as a variety of options.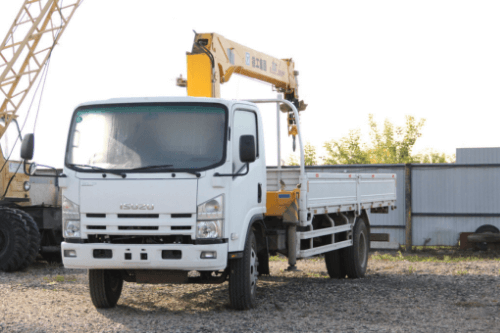 While these options and possible needs are quite varied, all but the largest trucks do have similar options to those of cars and vans, with many policy choices remaining the same at their core. Typically, when it comes to all truck insurance policies, it is the level of detail in the coverage where complexities come into play. For many, this will never be an issue, but it is important to understand how, for example, size of truck, age of model, use and weight will all have an effect on the options and prices of policy.
Notable Features of Isuzu Truck Insurance
Isuzu truck insurance can be as straightforward or as complex as you want it to be, and there are certainly some advantages to either approach. Unless your needs are themselves straightforward, the chances are you will better covered, or find a cheaper policy, by looking at each aspect properly. Some of the most popular and important include:
Third Party, Fire & Theft
One of the most ubiquitous policies around that can apply to various properties, third party, fire and theft should be the first port of call for those with Isuzu trucks. Third party provides coverage for insurance events that cause damage to a person or their property for which you are liable. It is legally required for all UK road using vehicles.
Comprehensive Cover
Comprehensive insurance, as the name suggests, adds another level of coverage that includes damage done to you or your property, accidental damage and sometimes many other aspects, depending on the provider involved. There are elements that might not be suitable for your situation, so be sure to not over insure with this policy as the profound level of insurance it provides is rarely cheap.
Goods In Transit Insurance
Goods in transit relates to items you are responsible for but that are not of your own. It is essentially a policy for businesses that transfer expensive items from one place to another, such as delivery services, guarding against the losses that come from theft and accidents. Such losses can be catastrophic for some, not to mention an enormous dent in their reputation.
Contents Insurance
Separate from goods in transit, contents insurance provides protection for items kept in the truck that are either personal or business owned. This can be an essential policy to have in place due to the various amounts of electronic devices found in vehicles these days, which makes them the perfect target for opportunist thieves. Mobile phones, laptops and sat navs can al be covered by contents insurance, each of which can be of great value and not easy to replace.
Let us find the right Isuzu truck insurance for you...