We Partner With






Why QuoteSearcher for Flood Risk Insurance?
​In the UK alone, 5.5 million properties are at risk of flooding, and during the autumn and winter months, high winds and torrential rains create the ideal conditions for flooding to occur. The effects can of course be devastating, destroying homes, businesses and vehicles, as well as harming the surrounding landscape.
With the weather being more unpredictable than ever, flooding is expected to become more intense. Now has never been a better time to check the risks your property faces, and put a flood risk insurance policy in place.
Policy Features for Flood Risk Insurance
Personal Possessions
Covers the cost of replacing or repairing your personal belongings in the event of flood damage
Buildings Cover
Pays out for structural repairs caused by the flood, including walls, roofs, flooring and other permanent structural elements. Read more about Buildings Cover.
Contents Cover
Contents will not be included as part of buildings cover, so this will cover the cost of appliances, white goods and other items. Find out more about Contents Cover in case of floods.
Accidental Damage
If flooding is caused by an accident, such as an overflowing or burst pipe, the cost of repairs will be covered
Alternative Accommodation
If your home or property is uninhabitable you will have to stay elsewhere, this covers the cost of a hotel for this time. Find out more about Alternative Accommodation Insurance
Home Emergency
This covers the cost of a call-out if flooding is due to something that could be immediately repaired by a professional
Why You Need Flood Insurance
​There are many areas in the UK where flooding is a genuine risk. You can check the map on GOV.uk to see if you live in a flood-prone area and whether flood risk insurance is advised. You can also pay for a flood risk assessment to give insurers an idea of the type of cover you would need. Some reasons you would need this flood risk home insurance are:
You live near a river or canal which may burst in heavy rain or storm weather
You live near an area where seawater can rise during storms or high tide
Surface water creates flooding on the ground, usually after heavy rainfall or due to a burst pipe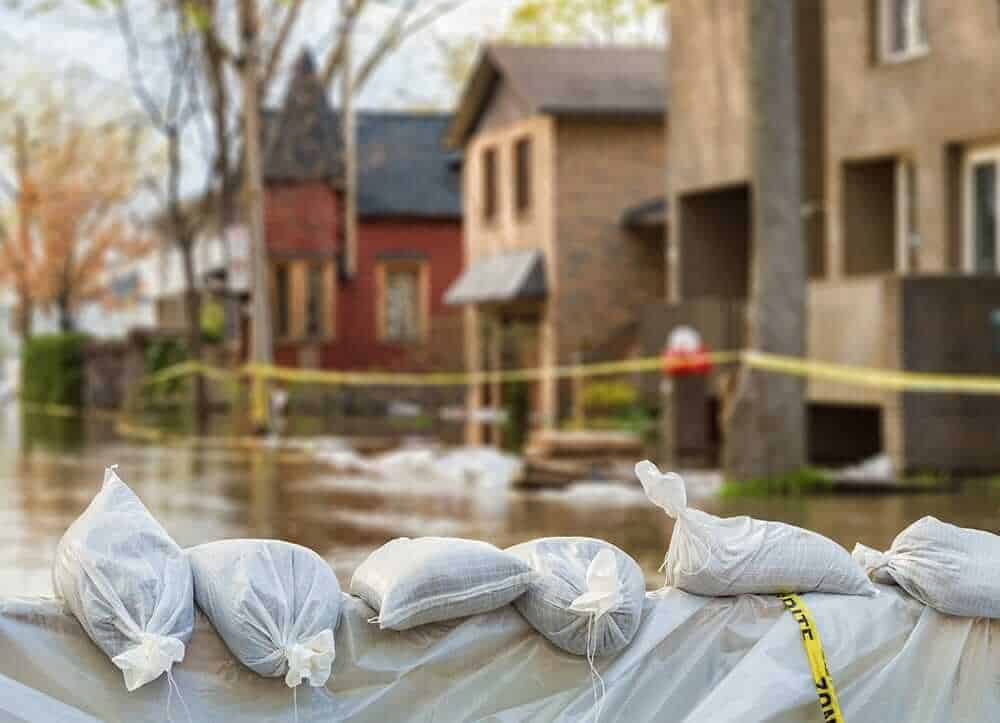 Return to Livable Conditions
​Home insurance for flood risk areas will cover the costs of a number of integral actions that will hopefully bring your home back to a liveable condition as quickly as possible. These include:
The removal of debris and materials that have washed in with the flood water
Drying out and repairing your property, including the refitting of various fixtures to full working order
Professional fees of people associated with bringing your home back to its former condition, such as architects and solicitors
Find out more about Flood Damage Insurance
​Reducing the Risk of Flood Damage
Getting home insurance with flood cover is a reactionary way to protect yourself from the costs that can be incurred after a flood. However, there are many steps you can take as a home or property owner to reduce the damage caused.
You can sign up for flood warnings and join a flood action group, both of which gives you advanced knowledge.
There are many products available to minimise water damage, including flood boards and air-brick covers. These can keep the water from entering your home and destroying your possessions.
You can also liaise with your local authority to see what steps and measures are being taken to prevent large scale damage.
All of these steps are proactive ways of helping protect yourself, but if you do suffer with this type of event, flood damage insurance will give you the financial peace of mind you need during what will no doubt be a difficult time.
Looking for a flood insurance quote? We have a large panel or specialist brokers, and we work with the very best flood insurance companies. For a competitive quote, fill out our form today and we will match you with a broker that suits your specific needs.
I completed one simple form on the QuoteSearcher website and received a number of excellent quotes. Thank you QuoteSearcher!
t last! A quote website that is simple, easy and quick to use!!! I just had to send in a quick email to congratulate and thank you.
Let us find the right flood risk insurance for you...