Taxi fleet cover is a vital part of running any taxi company. Your vehicles are your biggest asset protecting them against the many risks associated with operating a business that requires all vehicles to be running smoothly at all times is imperative.
The term 'fleet' means different things to different insurers, with the standard being anywhere above three vehicles. It is also possible to insure a fleet that has a mix of vehicles, such as cars and vans, and you can often save money by insuring more vehicles under a single policy.
In this guide, we'll look at the four most commonly asked questions about taxi fleet insurance, and how you can get protected without paying over the odds for cover.
What is taxi fleet insurance?
Taxi fleet insurance is an overarching name for insurance that covers all of your vehicles under one policy. Whether you run a small minicab business or a national private hire company, your vehicles need the utmost levels of protection if your business is to run smoothly. This means having the vehicles themselves, as well as you drivers, fully covered against a number of risks. 
Fleet insurance can be as detailed or as simple as you like, with three levels of coverage similar to those used in standard car insurance: third party only, third party, fire and theft, or full comprehensive. Of course, fully comprehensive is the most wide-ranging type of cover and will cover you for more things, such as breakdowns and roadside assistance, windscreen and glass, and public liability.
What are the benefits of fleet insurance?
When it comes to running a taxi company, knowing all your vehicles are covered under the same place can make things a lot simpler, particularly when it comes to renewal. Insuring every vehicle separately means reams of paperwork and several different companies to communicate with. With a taxi fleet insurance policy, you have everything you need in one place and oftentimes you can get a cheaper premium if you insure multiple vehicles under the same policy. You will also have one renewal date for your whole fleet, meaning less stress and less paperwork to deal with. 
Also, taxi fleet insurance allows you to spread the cost of claims; for example, if one of your taxis is in an accident, you could split the claim cost among the rest of your vehicles, which can therefore reduce the premium you pay.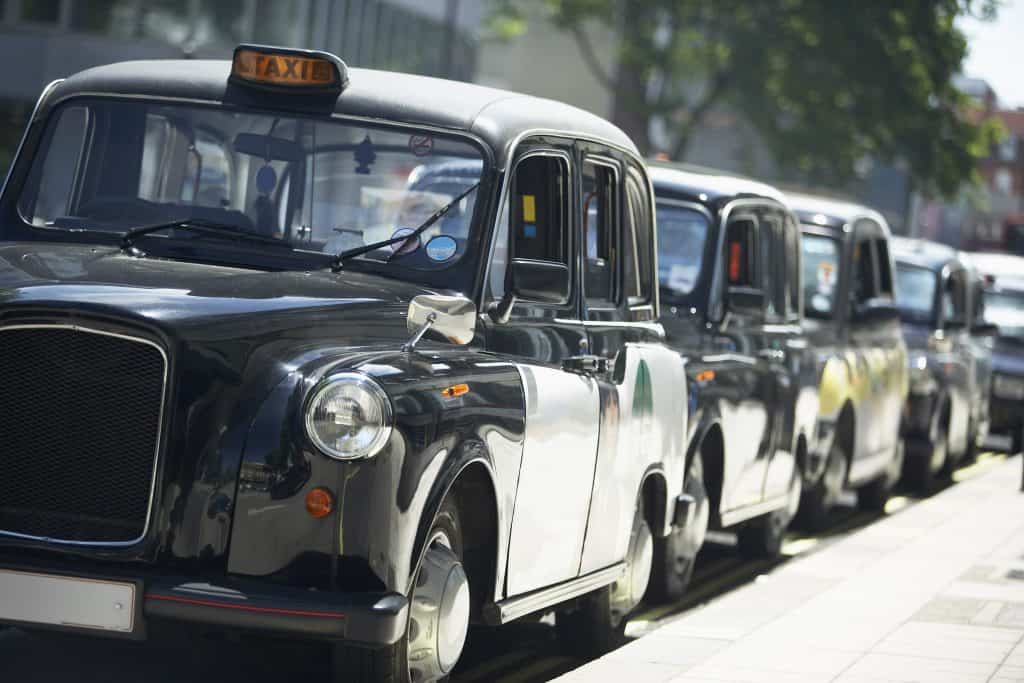 Does fleet insurance cover any driver?
You can have any driver cover as part of your taxi fleet insurance policy, but there is also the option to have it as named driver cover. There are pros and cons to each; whilst any driver policies offer you more flexibility, the insurer has no idea how risky any particular driver is. This can increase the price of your premium.
A good way to reduce the price of your insurance is to opt for named drivers. This way, your insurer knows the ins and outs of your drivers and can assess the various risks accordingly. 
A good tip is to try and hire drivers with clean records and who are older than twenty-five, as insurance companies consider the risk to drop considerably as a driver gets older and has more road experience. Also, using trackers and telematics can further underpin the safety of your drivers, by recording driving data and sending it on to your insurer so they can adjust any pricing accordingly.
How does fleet insurance work?
Taxi fleet insurance is simple to set up, and you can choose a variety of features to make it as specific to your business as possible. Firstly, you'll need to find and compare quotes. We make this easy with just one simple form to put you in touch with our panel of brokers. We partner with brokers that specialise in taxi fleet insurance, making them best placed to find you the right quote for your cover.
One of the main features you should consider is public liability insurance. This will cover your business against claims made by a passenger or member of the public. They might make a claim for a number of reasons, including injury to themselves or damage to personal belongings as a result of your/your drivers' negligence. Public liability insurance will pay out for compensation, medical costs, and legal fees.
It's also wise to think about breakdown cover. Any time a taxi breaks down, it costs money in both repairs and lost revenue. This is why it is important to get the vehicle back on the road as soon as possible. Breakdown cover will pay the cost of roadside recovery and transportation to a mechanic or garage. In some cases, breakdown cover can provide you with a replacement vehicle whilst yours is being repaired, and you can even get this as a standalone feature with some brokers.
Discuss your needs with your broker and they will help you design a bespoke policy that covers everything you need in one place, for one price, reducing time spent on admin and helping to lower insurance costs over time.
Fill out our form today and get started with quote comparison. We only work with the very best brokers, so you can be sure you'll get a competitive quote.