When it comes to taxi insurance, the breadth of cover you have is vital. Oftentimes, the minimum level of coverage will not be enough to protect you against some of the risks that are inherent in the job. Drivers of all capabilities need to know their vehicle and themselves are covered against claims of all kinds.
Of course, taxi insurance at the highest level can be expensive, and it might be tempting to opt for something cheaper and take the risk. However, with more cars on the roads than ever, the benefits of paying extra for certain elements can outweigh the risks of driving without them.
In this piece, we'll look at the costs associated with taxi insurance, why it can be so expensive, and the steps you can take to bring down the cost of your premium.
What insurance do I need for a taxi?
As with any car on UK roads, you must have insurance to be in compliance with the law. This means choosing from one of three categories: third party, third party, fire & theft, and fully comprehensive. For a taxi, fully comprehensive is the best choice, however standard car insurance won't be enough and will not give you the right level of protection. 
Taxi insurance comes in a couple of different forms depending on the kind of taxi you drive and the type of service you provide. Private hire, public hire, rideshare, or Hackney carriage – each one comes with a different set of risks and requires specific cover if you are to be protected from all eventualities.
Private or public hire insurance?
Private hire taxis are those that have to be booked beforehand. They will not have a lit taxi sign and will not pick passengers up off the street when hailed. There are arguably fewer risks associated with private hire taxis due to the nature of being pre-booked. 
Public hire, on the other hand, are taxis like black cabs or those that can be hailed by anyone on the street. This presents a slightly higher risk due to the possibility of picking up unruly or intoxicated passengers, or due to the fact that public hire taxis tend to be present in city centres late into the night and on weekends, when the streets are busier and there is more likelihood of an accident.
There are also insurance policies that are specific to a type of vehicle, such as a minibus. If you operate a minibus on a hire and reward basis, you'll need to insure it adequately as the risks associated with driving a larger vehicle and carrying a higher number of passengers are different from standard 5-seater taxis.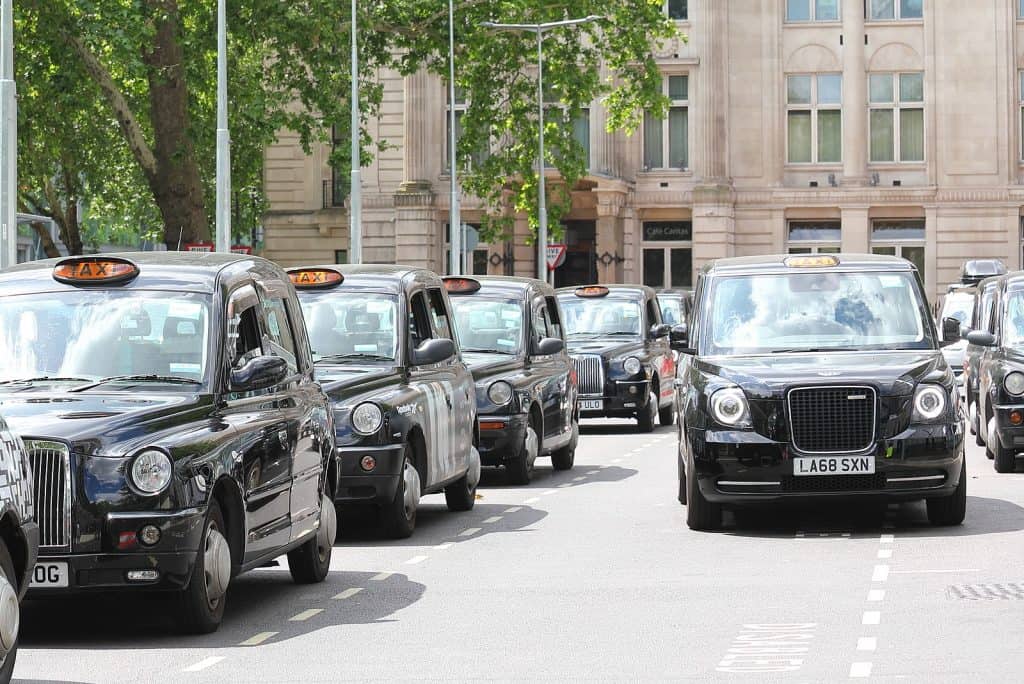 Why is taxi insurance so expensive?
A taxi is on the road all day every day picking up passengers from all sorts of areas at varying times of the day and night. They spend far more time on the road than standard motorists and often drive in congested areas. Not just that, but some taxis are large cars that will cost more to insure in general. 
The breadth of cover you are looking for will also play a big part in how much you can expect to pay. For example, features such as breakdown cover, public liability, windscreen and glass cover, key replacement, and personal belongings insurance may not be included in a standard comprehensive taxi insurance policy. If you wish to add these to your policy you will pay more, but it could make all the difference in the event of a claim.
How can I get cheap taxi insurance?
Reducing the cost of your premium is possible with a few steps. Firstly, building up your no claims discount can have a marked effect on the price you'll pay for your insurance. Also, employing the use of a black box to record your driving can be a great way to show your insurance provider that you are not a high risk driver; this is called telematics and it is becoming more and more popular as the technology advances.
Another way to bring down costs is to install CCTV and a dash cam in your taxi. With this type of technology, you'll be able to have irrefutable evidence of what happened in the event of an accident. For example, perhaps a car driving in front of you stops suddenly and unsafely and you drive into the back of them. 
Usually, the fault would be on you for not leaving enough distance to stop or not paying attention to the car in front; with a dash cam you will be able to show your insurer that it was unavoidable and you are therefore not liable.
CCTV within the taxi itself is also important. If a passenger is unruly and causes damage to your vehicle, they will be unable to dispute fault with video evidence.
All in all, comparing quotes from multiple brokers is the best way to find a competitive price for your taxi insurance. There are so many brokers out there so finding the right one with the right quote can be tough. 
With QuoteSearcher, however, there's no hassle. We'll put you in contact with a range of brokers who specialise in taxi insurance, so you know you are getting quotes from insurers that understand the unique risks of your job. Just fill out one simple form to get started.