Despite many controversies, Uber has found success as one of the largest ride-hailing apps in the world. Widely used in cities and towns across the UK, it can be a lucrative job depending on the area and hours drivers choose to work. 
Insuring yourself as an Uber driver can be quite confusing, as the company itself does not like to call itself a taxi company but rather a transportation network. However, with a bit of research you can find out what kind of coverage you need, so we've put together a guide to give you all the information you require to start looking for quotes.
What insurance covers Uber drivers?
In the US, Uber offers supplemental insurance coverage for its drivers when they do not have passengers, as long as they have car insurance in place themselves. However, in the UK, the company does not offer any kind of insurance coverage, with drivers expected to purchase their own policies.  
Essentially, with Uber being a different form of taxi, taxi insurance is the only type of cover that will include all aspects that need to be protected. However, with different types of taxi insurance available, Uber drivers need to know they are choosing the correct one if they are to avoid pitfalls should they need to make a claim later down the line.
Do you need taxi insurance for Uber?
Yes, taxi insurance will cover you as an Uber driver. You must, however, make sure you are purchasing private hire taxi insurance as opposed to public hire. Public hire taxis are those that can be hailed by customers on the street, like black cabs. Private hire, on the other hand, are taxis that are booked ahead of time using a dedicated phone number or, of course, the Uber app.
Having said that, Uber denies that it is a private hire taxi company, preferring to call themselves a 'transportation network', a term likely to cause confusion for people looking for insurance. Whatever Uber is classified as, standard car insurance will not cover you for paying passengers. You need to have insurance that covers you for hire and reward, i.e., your passenger hires you and you are thereby rewarded with payment.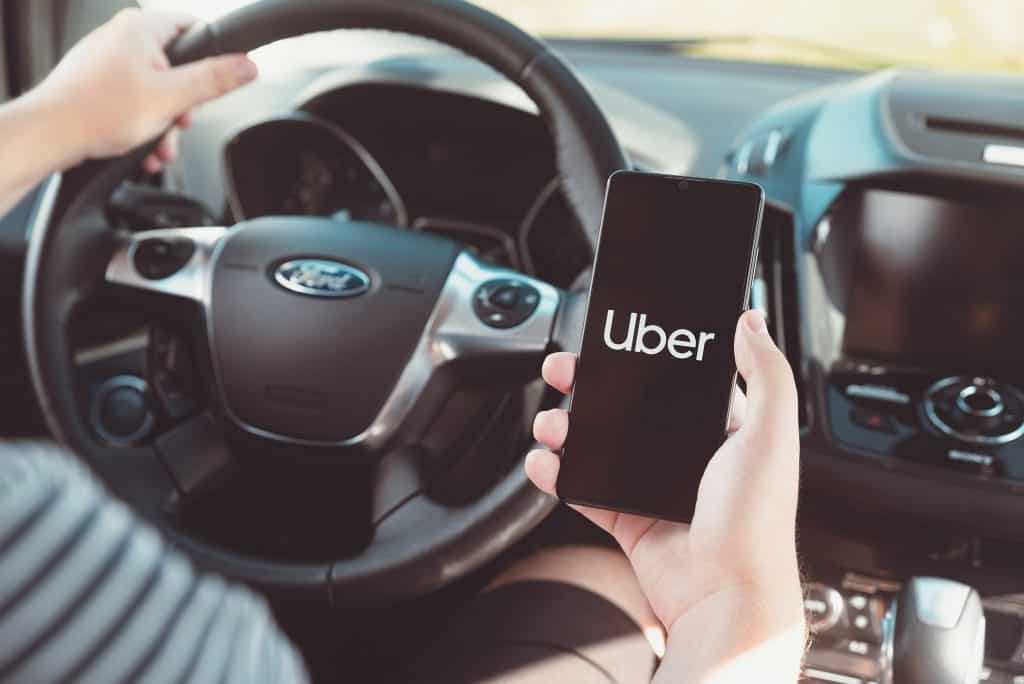 Can I use taxi insurance for Uber Eats?
Uber Eats, whilst still under the business name Uber, is a very different kind of business. Drivers for Uber Eats will be expected to have insurance that covers them as couriers or food delivery personnel, as they will be in charge of carrying goods between a restaurant and customer's premises. 
The risks are very different and taxi insurance is therefore not wide-ranging enough to offer full protection. You will need to consider a number of different features if you intend to insure yourself as a food courier.
What insurance do I need for Uber UK?
Private hire taxi insurance with hire and reward cover is the best place to start, however you may want to extend your policy to cover a range of situations that may arise. Standard private hire taxi insurance will usually have the following features:
Breakdown cover
Glass and windscreen cover
Theft cover
Personal use cover
Courtesy car cover
Public liability cover
Public liability cover is a useful feature for many drivers as it protects you against claims made by a passenger or member of the public. This can be due to an accident or injury sustained by a passenger or pedestrian, or it can cover their personal belongings which may have been damaged as a result of negligence on the driver's part.
You might also wish to take out personal use cover if you use your vehicle as your mode of transport outside working hours. This will give you protection against similar situations, meaning you remain covered even when you are not working.
Looking for Uber insurance? Learn more about what you need to be fully covered by visiting our Taxi Insurance page, or fill out our easy form to start finding competitive quotes.