Welcome
Insuring your car is not only a legal requirement, but it is the best way to get the vital help and financial assistance you will need if you get into an accident, or if your vehicle is damaged or stolen. There are so many types of car, and with that comes many types of car insurance. Ensuring you have the most suitable type for your vehicle is the only way to have maximum levels of protection.
We can help you find insurance for a range of car classifications within the UK, including: imported cars (including American and Japanese), classics and modified cars. It is always worth knowing how your car is classified according to your insurer, as this could either save you money on your policy, or prevent a claim being refused due to incorrect classification. In this guide, we provide details on the most common car codes and classifications insured in the UK.
Q Plate Vehicles
A Q registration plate is given to a vehicle that's age, identity or service history is unknown. It is often thought to stand for 'questionable' or 'query', although the real reason that Q is used for these types of car is that the letter cannot be used for regular registrations due to its similarity to a zero.
So, what kind of car gets a Q plate? Q plate cars come in many forms, such as:
Imported vehicles
A Q plate was originally given to all imported cars, back in the early days of car classifications. Nowadays, it can still apply to imported cars, but usually those that are self-imported and have gaps in service history and documentation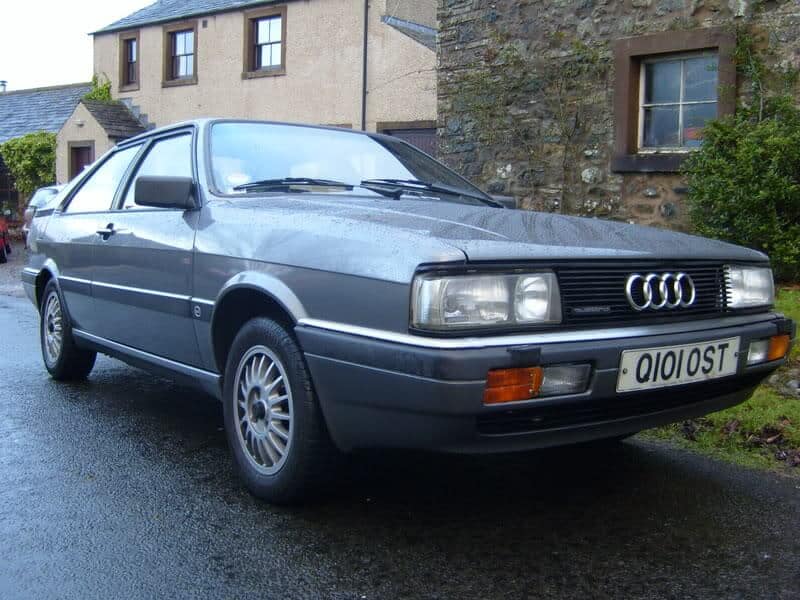 Self-build vehicles
Self-built kit cars that you can put together yourself will have a Q plate as they use parts from a range of vehicles. Official replicas will also have this type of registration as they do not always use parts certified by the manufacturer
Ex-military vehicles
If you own an ex-MOD vehicle, paperwork from its past may be classified. In this instance, the vehicle will need a Q plate. It will also require one if it has been modified to such an extent that its age is no longer identifiable
Altered vehicles
Not all altered or modified vehicles will need a Q plate, but any car that has been modified to the point that the original parts unidentifiable will require this kind of classification.
Q plate rules are extensive, and it will often be more difficult and more expensive to insure this type of car. However, there are ways to bring down the cost of your policy, including limited mileage cover. It is integral to speak to your broker to ascertain the best way to make sure everything about your Q plate vehicle is covered.
Classic Cars
Classic, or antique cars are defined as having historical interest to the point that it becomes collectible, or are at least undeserving of being scrapped. From aesthetics to engine specifications, there are many reasons why someone would want to keep an older car.
Often, vehicles over twenty years old become 'antiques', but the definition varies across the world.
Whatever year and make of your classic car, you will need to have the right kind of insurance to cover it.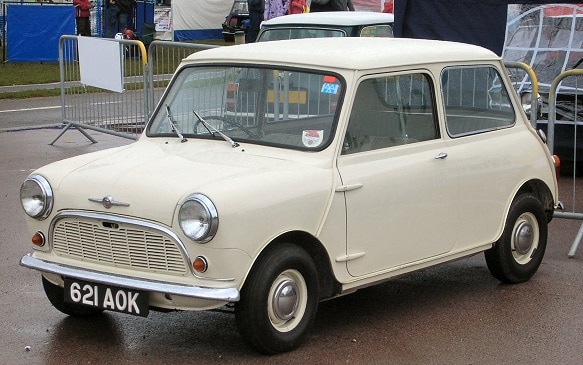 Classic cars are a point of great pride for their owners. Whether it is a classic Ferrari Testarossa or a 1955 Citroen 2CV, classic cars brighten up the road and are a talking point for many spectators.
Historic cars are expensive to insure for a number of reasons; they are often lacking in contemporary safety features, some are high-performance which can mean they are more likely to be in an accident, and the risk of theft is increased due to their value and desirability. Of course, there are some owners who only take their collector cars out of the garage for shows or special occasions, and many would only have this type of car as their secondary mode of transport. In order to reduce the cost of your premium, you could opt for limited mileage insurance, or a SORN.
Modified Vehicles
Modified cars and motorbikes needs specialist insurance because they differ from the factory standard. This means their parts are not likely to all be manufacturer-approved, which therefore carries a higher risk of accident or breakdown. This makes modified vehicle insurance a vital component of ownership.
There are a number of elements that define a vehicle as being 'modified'. Whether it be an aesthetic change, like a spoiler or alloys, or changes to the engine, any differentiation from the way it was initially bought can make it harder to insure.
Some of the aesthetic modifications that will directly influence your premium are:
Wheel arches
Tinted windows
Spoilers
Side skirts
Valances
Stickers and decals
Changes to the performance of the car include:

Engine and mechanics: including changes to the transmission, gearbox, exhaust, air filter etc
Bodywork: including body kits and wheel arches
Interior: including changes to the dashboard, replacement of seats, and the installation of roll cages or bars
Brakes and suspension modifications
Changes to the sun roof or air conditioning system
Specialised paintwork, or stripes and badges
Modified cars cost more to insure purely because changes that are made are not officially certified by the manufacturer, so are therefore not a standard. Aspects like bodywork and paintwork can influence the price of your premium because modified vehicles are more likely to be stolen, and are more expensive to repair should they vandalised or involved in an accident. Modified car insurance is the best way to make sure your special vehicle is protected.
Grey Import Cars
A grey import is a car that has been imported from another country through channels other than that of the manufacturer's preferred system of selling, but that is not EU-approved. This will often apply to American and Japanese cars, whose specifications differ greatly from vehicles purchased in the EU.
Foreign cars are extremely popular in the UK, but there are certain things to keep in mind before buying your grey import. Vehicle standards in the UK differ from Japan, for example, so your imported car will need to have a few changes made to be legal on UK roads. There may be changes required to instruments or lights, and Japanese cars often some without an attached under-seal.

The factors which make imported car insurance policies more expensive than regular vehicles are:
Sourcing spare parts after your car has been damaged can be tougher and more expensive, and finding a mechanic with experience may also be more difficult than normal
Some imports are more powerful and have a higher specification than EU-approved cars, which could increase their chances of being in an accident, thereby increasing your premium
Your broker will request your car be tested under the SVA (Single Vehicle Approval) scheme, which will determine if your car is legal to drive in the UK
All of the above can affect the price of your premium. However, liaising with a specialist grey import insurance specialist can help to reduce it.
Statutory Off Road Notification (SORN)
If your vehicle is taken off the road for any reason, you will need to apply for a SORN. Having a SORN will mean you do not need to pay road tax or insurance, or have a valid MOT for the period of time it is not on the road. Even if your car is not legally able to be driven,
There are many types of vehicle and many situations that would require a SORN. Some of these include:
'Old bangers' that are not roadworthy but are intended to be repaired at a later stage
Project cars like at-home build kits or classic cars that you are modifying or repairing in your spare time
A vehicle that will not be driven while a family member is away travelling or at university
A vehicle that you want to scrap

Regardless of the reason your car needs a SORN, you must have one to avoid an £80 fine for not having road tax or insurance. SORN insurance, also known as laid up insurance, protects your vehicle whilst it is off the road. Elements such as vandalism, theft, or damage can still occur when the car is not being driven, and some car owners want the peace of mind that comes with laid up insurance.
Category N Vehicles (Previously Category D)
In October 2017, category D vehicles were reclassified to category N, but the meaning stayed the same; it refers to a car that has been written off but may still be repaired and made roadworthy again.
When your vehicle is a write-off and the associated claim has been paid by your insurance company, they will officially own the written-off car. It is their prerogative after this to sell it on to a garage or motor repair centre that has the experience and knowhow to return the car to its previous, drivable condition.
Some insurance companies will not offer insurance for cat N cars because of the increased risk, however if you work with a specialist broker you can often find a suitable policy. In the majority of cases, the insurer will deem the cost of the repairs as not being financially viable. However, there are some people who would prefer to have their car repaired – either because it holds sentimental value or buying a new one would be more expensive.
If you want to buy a category N vehicle, bear in mind that only specialist insurers will have the ability to offer the highest levels of cover. Also consider that category d car insurance is likely to be N from now on.
Driving License Codes
In order to drive a particular kind of vehicle, your license must give you the permission to do so. Vehicles are separated into driving license categories, which can be seen on the back of your driving license card (see image right). The information displayed alongside each code indicates which vehicles you may operate and in which capacity. These codes are explained below:
Cars
Category B – if you passed your test before 1 January 1997 you can drive a vehicle and trailer combination up to 8250kg maximum authorised mass (MAM)
Category B – if you passed your test on or after 1 January 1997 you can drive vehicles up to 3500kg MAM and a trailer of 750kg
Category B Auto – (same as above but only automatic)
Category BE – a vehicle with a MAM of 3500kg with a trailer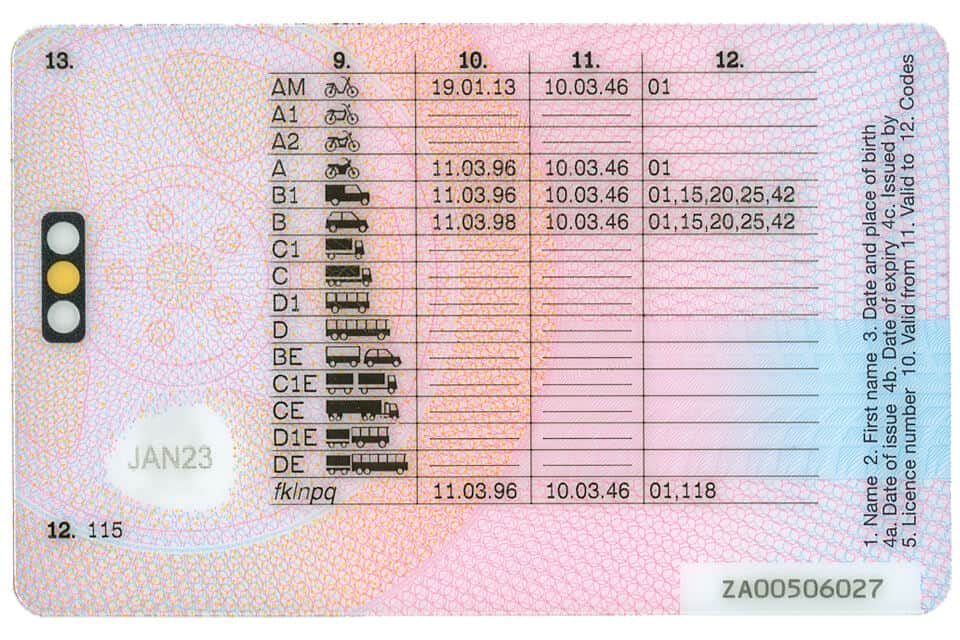 Mopeds
Category AM – 2/3-wheeled vehicles with a maximum speed of over 15.5mph but less than 28mph
Category P – 2-wheeled vehicles with a maximum speed of over 28mph but less than 31mph
Category Q – 2-wheeled vehicles with an engine size of no more than 50cc, and a maximum speed of no more than 15.5mph
Motorcycles
Category A1 – an engine size up to 125cc and a power output of up to 11kw
Category A2 – a power output of up to 35kw
Category A – power output of more than 35kw and motor tricycles with a power output of more than 15kw
Minibuses
Category D1 – vehicles with no more than 16 passengers, a trailer up to 750kg, and a maximum length of 8 metres
Category D1E – D1 categories with trailer over 750kg MAM, combined MAM of both cannot exceed 12000kg
Buses
Category D – any bus with more than 8 passenger seats and a trailer up to 750k MAM
Category DE – D vehicles with a trailer over 750kg
Medium-Sized Vehicles
Category C1 – vehicles between 3500 and 7500 MAM with a trailer up to 750kg
Category C1E – C1 vehicles with a trailer of over 750kg
Large Vehicles
Category C – vehicles over 3500kh and a trailer up to 750kg MAM
Category CE – C vehicles with a trailer over 750kg