Coronavirus has hit people incredibly hard, with the first lockdown changing how everyone conducts their day-to-day activities, both in terms of their personal lives and working lives. For a lot of people, the announcement of another lockdown has left them with uncertainty and confusion.
However, for some, it has been an opportunity to adapt and refocus key skills into new industries and job arenas. Research conducted by Totaljobs shows that 7% of people have moved into a different industry, being able to use their existing skill set to help them in their new career.
So, how do you know if your skills can be helpful in a new industry, and how can you insure yourself and your skills in an area that is brand new to you? In this guide, we'll look at some key industries and how you can put your skills to good use during this time of great uncertainty and change.
Workplace changes
It seems as though there has been no industry left unaffected by the pandemic. Whilst many office workers have made a healthy transition to remote working, some industries do not have that luxury and have had to make stark changes, or cease work altogether.
Unfortunately, the first wave of the pandemic left many businesses unable to pay staff, with the furlough scheme becoming a helping hand for millions of workers. Now, as a new lockdown commences, people are asking how they can repurpose themselves to keep earning as restrictions continue.
Same skills, new job
When it comes to transferable skills, moving from one industry to the next can actually be relatively smooth. It may also be that people just haven't ever had to consider using their learned skills in a new role. Let's look at a few examples:
Taxi drivers
With the coronavirus stopping people from commuting and going out socially, taxi drivers have seen a stark downturn in terms of customers numbers. With their wage so dependent on footfall, many drivers are looking at different ways to supplement their income. 
We've noticed a number of taxi drivers using their skills in different arenas, whether this be becoming a courier or food delivery driver. Their already excellent knowledge of the local area, as well as their obvious competency as a driver make them prime candidates for jobs like this. Also, with more people staying home, there has been an increase in home deliveries for things like takeaways, groceries, or online retail.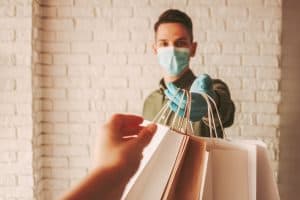 Airline staff
Another interesting industry transition is that of airline staff using their customer service and first aid skills to help out in hospitals and medical facilities. In March 2020, easyJet and Virgin Atlantic announced that over 13,000 members of staff from both companies, who are trained in CPR and first aid, would be able to sign up to perform supporting roles.
With planes being grounded and travel restrictions in place, it makes sense for these workers to put such vital skills to practice. Trained to use important equipment like defibrillators, and trained to have a fantastic level of customer service, they are in prime position to provide high quality and professional grade care.
Hospitality workers
With so many bars and restaurants being forced to close over the lockdown period, hospitality staff have had to make ends meet with a mixture of furlough pay and Universal Credit payments. 
Finding continuous work that matches their skill sets can be done though. Telephone-based jobs that can be done from home, such as customer service, sales, or tech support roles, can be done by hospitality workers due to their communication skills and overall friendliness. Many of these jobs also offer training when you start so you can get started relatively quickly. The flexibility of these jobs is also an attractive prospect for hospitality workers, a large proportion of which are supporting their studies or young families.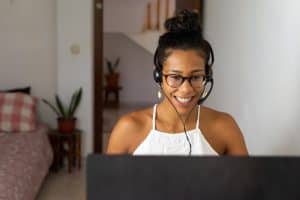 Self-employed
The UK has seen a huge increase in self-employment over the past decade, with around a million people more people working for themselves compared with ten years ago. In London alone, almost one in five people are now self-employed.
Whilst there are many benefits to self-employment, there is less stability, particularly in the wake of a global pandemic. Although the government has offered small financial incentives for the self-employed, the scope and range of industries that have been affected by the coronavirus means that many self-employed people and freelancers have been unable to secure a regular income. 
According to research from the London School of Economics, up to a fifth of self-employed people will be leaving self-employment due to the pandemic, demonstrating the desire to work in a more financially stable environment. Of course, self-employment is possible for a huge number of industries and therefore there are routes to in-house positions regardless of your general skill set. 
New industry, new insurance?
Of course, changing industries means changing your level of protection. It might be that you were a taxi driver with private hire taxi insurance, but you now work as a courier using your own vehicle. In this instance, your taxi insurance, whilst still encompassing many of the same features as courier insurance, will not be specific or detailed enough to offer you the right cover. 
For example, taxi insurance will often cover things like accidental damage and theft and will sometimes include breakdown cover as well. Of course, all these elements are useful to a courier as well, but with differing risks you need differing cover. Goods in transit and/or haulage insurance are absolutely vital for couriers. If you change industries but not insurance coverage, you will not be insured and your policy will be void as you are simply not doing the job you are being insured for. 
Finding suitable cover for changing needs
Coronavirus has also led to changing needs in terms of insurance. With lockdown keeping us all indoors, many people are now paying to insure a car that they are not driving. People with annual travel insurance policies are now paying to insure holidays they are unable to go on.
Similarly, business owners now have to consider whether they will continue to utilise remote working going forward into the new year, thereby reducing their reliance on office space and eliminating the need for buildings and contents insurance. The best bet is to speak to your insurance provider and discuss your changing needs so you can be better prepared, and better protected, for anything that comes your way.
With so much up in the air right now, our working landscape has changed and is likely to keep changing. The importance of insuring yourself properly should not be underplayed. Whatever your working life looks like, having the the right level of cover can be the best defence against an unpredictable future.