Commercial Van Insurance
If you use a car or van to carry out your business, you'll understand how important it is to keep it in good nick. Having the right level of insurance coverage could mean the difference between a few quid and thousands of pounds should you need to make a claim.
In this article, we're going to answer some of the quickfire questions we get asked about commercial vehicle insurance, and how you can find the right quote for your policy, no matter what it entails.
How does company van insurance work?
All vehicles on UK roads must be insured third party cover as a legal minimum. This is also true for companies who use one or more vans to carry out vital business operations. However, third party insurance is generally not detailed enough to cover the wide range of situations company vans face.
For example, van insurance for company vans can cover travel to multiple locations, transporting and delivering goods, transporting work-related machinery and tools, and general road-related issues like accidents or theft. If you intend to use any van you own to carry out your work, you will need to let your broker know otherwise your policy may be invalidated.
What could affect the cost of my van insurance?
The cost of your commercial van insurance is influenced by a number of factors. The age and driving history of the employees using the van will have a marked effect on your premium. Statistically, younger drivers are more likely to get into an accident, so it might be an good idea to ensure only drivers over the age of 25 can drive company vehicles.
The way the vehicle is driven is another factor that contributes to cost. Telematics, or black box insurance, is a good way to let your broker know that you are a safe and trustworthy driver. A black box will record data about your driving, which a broker can use to calculate a more suitable premium price.
Storing and securing your van properly will also help to keep costs down as there will be a decreased risk of theft or vandalism. Take all necessary precautions to ensure company vehicles are kept safe, i.e., locked in a garage, kept in a separate place from the car keys, making use of a steering wheel lock, using an alarm system.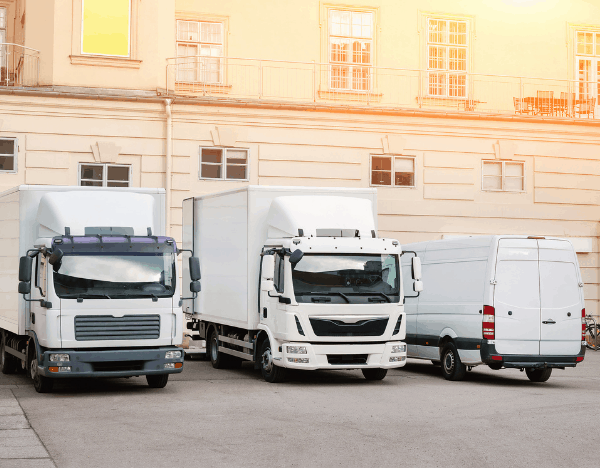 Can I add other drivers to my van insurance policy?
Yes, you can have multiple drivers included in your policy, either on an any driver or named driver basis. Any driver policies are more cost effective, particularly if you have a small business with multiple members of staff using the same van. It can also be a more practical choice as you will not need to add and remove people from your policy on a named driver basis. 
You should consider the age and driving history of the staff members who will be using your van as this can affect the price. For example, drivers under the age of 25 may be more expensive to insure, as will drivers with a spotty licence history.
How can I get cheap van insurance?
Van insurance prices will vary depending on a number of different things, but the best way to find cheap insurance is to compare multiple quotes from a wide range of brokers. It is wise not to take the first offer you find simply because it is easier. With QuoteSearcher, you only need to fill out one form to get the same results as hours of internet traipsing. We work with a panel of brokers who specialise in van insurance for businesses, meaning you'll be able to get competitive quotes from multiple dealers, all without the hassle and legwork.
Let us find the right commercial van insurance for you...