Common Questions About Fleet Insurance
Maintaining a fleet of vehicles is important when they are a vital part of your business. Whatever industry you work in, if you use multiple vehicles they will need to be adequately insured. You could insure them all separately, but covering them all under one policy can be a wiser choice for a number of reasons.
Let's take a look at some of the key things you need to know about fleet insurance and how to make it work for your specific needs.
What is a fleet insurance policy?
When you take out fleet insurance, you are insuring multiple vehicles under one overarching policy. This means that all your paperwork and information is in one place and the policy itself protects all vehicles in the same way. For example, you might use a fleet of vans for your plumbing business; with fleet insurance, all those vans will be insured with the same features.
Fleet insurance is often a good choice for businesses as you can save a great deal of time and money. Insuring all vehicles separately means a huge amount of paperwork and the prospect of going through several renewals rather than one.
How many vehicles are in a fleet?
There isn't really a set number of vehicles that constitute a fleet. Some insurance companies say more than three, whereas others say you will need to have 10 or more to qualify for fleet cover.
When you fill out our form for fleet insurance, you will be asked for the number of cars or vans in your fleet. This means you will be matched with the right brokers to provide you with the best possible quote.
What is an open driver policy?
Open driver policies, also known as any driver, is insurance that covers your fleet vehicles to be driven by different drivers. This can be particularly useful for large fleets whereby a worker may need to take any available vehicle rather than a specific one. However, it can be pricey. To keep any driver policy costs down, make sure your drivers are over the age of 25 with clean licenses.
If you think this might not be the option for you – for example, you have a taxi fleet which has cars driven by the same drivers day in day out – you should go for a named driver policy. This insures a person for a specific vehicle in your fleet. It can be a cheaper option if you know your car will be driven by one person for the duration of their employment with you.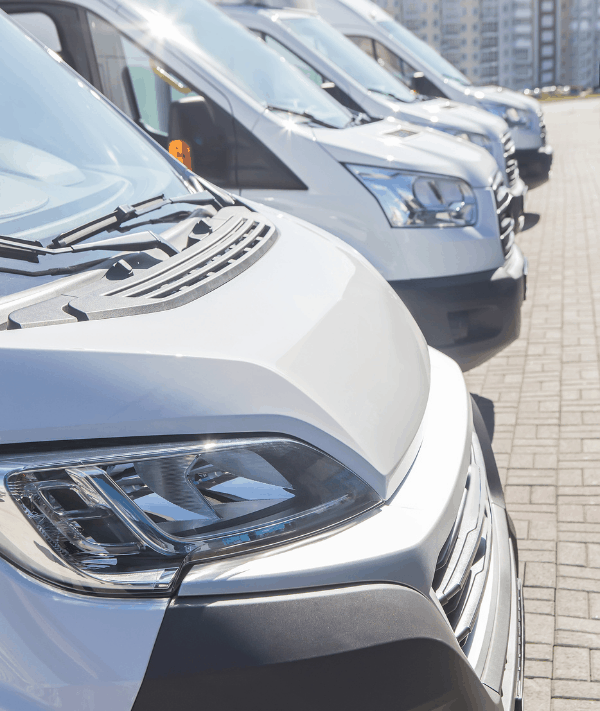 What is taxi fleet insurance?
If you run a taxi business, it makes sense to insure all your cars under one taxi fleet insurance policy. It will take all of the necessary insurance features – public liability, breakdown cover, and windscreen cover, for example – and apply them to every car in your fleet.
There will be different costs and features depending on whether you run a public or private hire taxi company.
How much does fleet insurance cost?
It is hard to say exactly how much fleet insurance will cost as different industries present different risks. If your vehicles are used to transport tools, materials, or products, for example, you will need to take out personal belongings or goods in transit cover. You can find out more details about the various types of fleet insurance here.
Get multiple quotes from a range of brokers who work specifically in the fleet insurance field. You will be able to design a bespoke policy that works for you. Fill out the form to get started.