We Partner With




Why QuoteSearher for Catering Van Insurance?
Our panel of expert brokers are on hand to offer you competitive quotes. Running a catering van business can take you to a range of places – whether you have a regular spot, or you travel to festivals and events, you will experience a range of aspects that require you being fully covered with a dedicated, specialist insurance policy.
From ensuring quality with your food and drink on offer, maintaining good stock levels, and ensuring your customers are happy, there is a lot to think about when you own and operate a food catering van. Whatever you sell from your catering van, you have to make sure you have certain protection in place in order to be within the law, and ensure your business is profitable and runs smoothly.
Policy Benefits
Stock Insurance
Cover and replace stock, in the event of equipment failure or deterioration.
Legal Expenses
Covers cost of legal expenses in the event of a claim against you. Find out more about Legal Expenses coverage.
Personal Accident
Compensation for an injury which prevents you operating your business.
Business interruption
Compensates for loss of income due to an inability to trade. Find out more about Business interruption coverage.
Policy Features
​There are three types of policy that you should consider when taking catering van insurance, these include:
Third Party Only (TPO)
This covers you for claims made against you by a third party, covering their losses if there is an accident or injury that is your fault – you are legally obligated to have this as a minimum
Third Party, Fire & Theft (TPFT)
This will protect you against third party claims, as well as if your catering van is stolen or damaged by a fire
Fully Comprehensive
This type of policy covers you for all of the above, plus some other aspects that is not the result of a collision, such as vandalism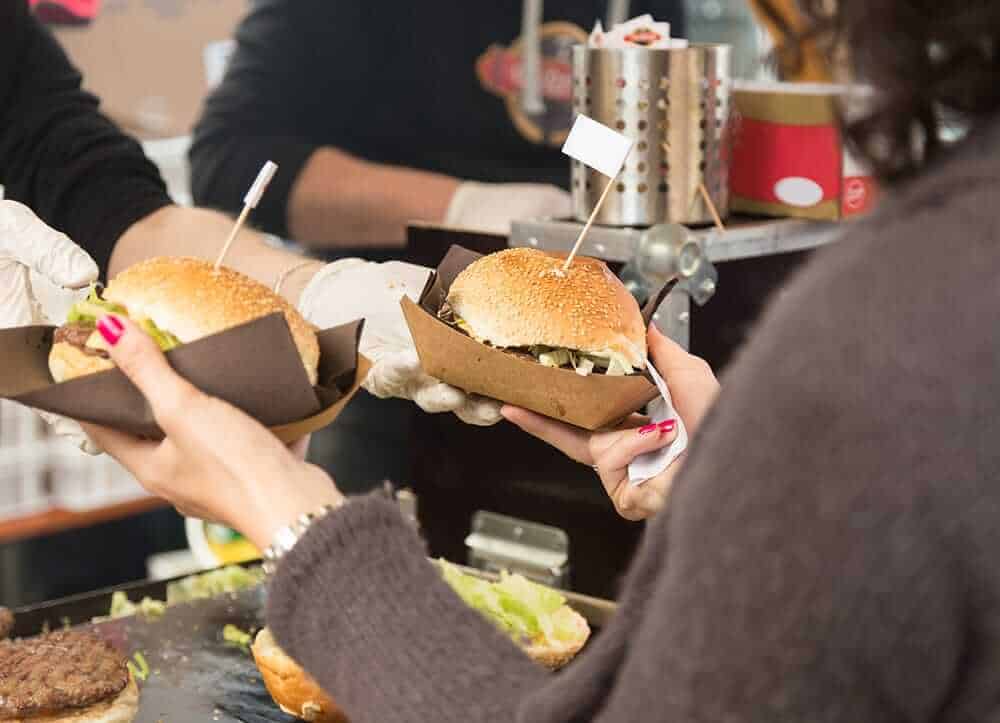 Liability Cover
The options available for liability insurance are:
Products Liability
If a member of the public becomes ill or injured as a result of something you have sold from your catering van, you will need to be protected with a policy that includes products liability insurance. This is important for catering van businesses, regardless of what type of food or drink you sell; many people have allergies or aversions they may not initially make you aware of.
This type of liability insurance will pay out legal fees and compensation costs if a third party is injured by your vehicle or your business. This is advisable if you work with suppliers – if someone were to become ill from a burger sold from your van but contaminated from your source and a customer takes legal action, you would be liable without this type of policy.
If you employ anyone to work for your business, whether full-time, part-time or volunteer, you must have employers' liability insurance by law. If a member of staff injured themselves on cooking equipment, for example, this type of policy will pay medical, legal and compensation costs.
Types of Catering Van
We can help you find cover for a wide range of catering vans, no matter what kind of food and drink you offer.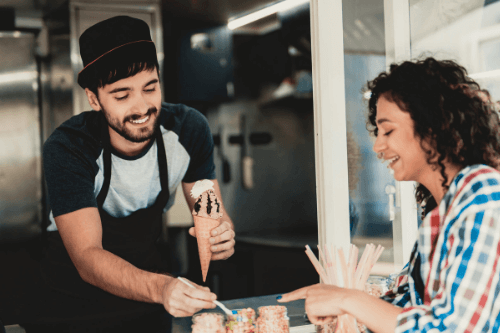 Food van
Burger van
Kebab van
Ice cream van
FREQUENTLY ASKED QUESTIONS ABOUT CATERING VAN INSURANCE
Why do I need Catering Van Insurance?

Working with food and the public presents a unique set of risks, and as the business owner you are at risk of public liability and compensation claims.Whatever the case, these sorts of problems can prove incredibly costly, and can have very serious financial implications especially for smaller catering businesses.

What is Catering Van Insurance?

A specific insurance policy designed to provide catering van owners with all the protection they need, in case of an accident or a compensation clainm being launced against them.Some of the main features are public liability, employers' liability, and vehicle repair.
I was very impressed with the speed in which QuoteSearcher's partners got back to me. After completing the online form I was delighted with the quotes I received and was happy to sort out my insurance quickly.
After searching for hours on the internet I finally came across QuoteSearcher whose partners provided me with excellent quotes far better than I had received from anyone else.
Let us find the right catering van insurance for you...