We Partner With









Why QuoteSearcher for Public Liability Insurance?
Public liability insurance can often be a critical element of your business cover and there are numerous businesses that can benefit, from restaurant owners, to couriers, to landlords.
QuoteSearcher understand the ups and downs associated with running a business, and the importance of having peace of mind. Fill out our simple form and we'll partner you with a specialist broker in your industry, who can provide you with a competitive quote for your public liability insurance. We aim to take the stress out of comparing premiums, so you can find the best policy at the best price, so you can get back to running your business.
Policy Features
Legal Costs
This will cover any legal costs associated with claims made against you by a third party, including lawyer's fees and compensation costs
Medical Fees
In the event of an accident on your business premises, or as part of your service, you may be required to pay medical fees, such as for medication or physiotherapy
Loss of Earnings
If a third party of member of the public is injured as a result of your negligence and is unable to work for a period of time, this feature will cover their lost earnings
Damage and Repairs
If someone's property is damaged or broken on your premises, this feature will cover the costs of repairing or replacing the property
The Responsible Choice
Accidents, by their very nature, are neither deliberate nor planned. No matter how well prepared you may be, accidents can still happen. Even if you are doing everything right, following best practice at all times, the same cannot be said for the other party involved. This is where public liability insurance becomes essential.
Compensation and legal costs can be incredibly high, and could have serious financial implications for you or your business. With today's culture of ambulance chasing, even baseless claims are still expensive things to defend against.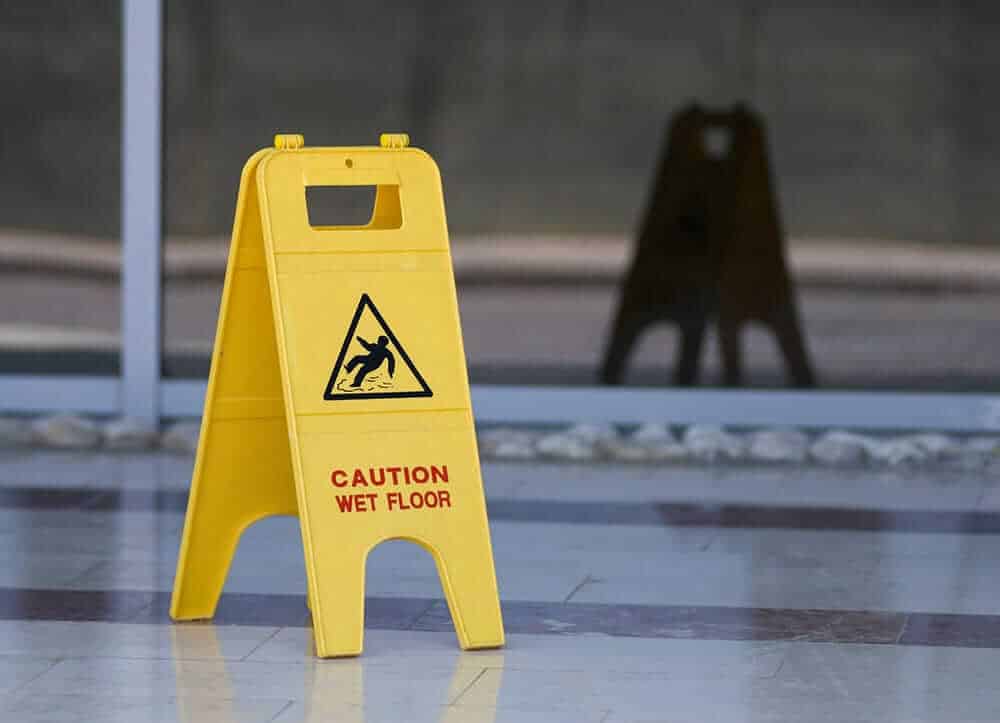 The Importance of Public Liability Insurance
Any business that deals with the public, or accepts customers onto their premises, is eligible for public liability insurance. Even if you do not have a bricks and mortar location yet deal with the public, like a taxi driver or chauffeur, you will still be obligated to pay out in the event of an accident or injury. Whilst it is not a legal requirement, it can often be a lifesaving element to your overall business cover.
If a client or member of the public slips over on a wet floor at your business premises and sustains an injury, as the owner of the business you can be held accountable and have to pay their legal, medical and compensation costs.
If you are working on a film set and damage camera equipment belonging to another freelancer, the cost of repairing it can easily run into the thousands.
If a client is visiting your office and falls from a faulty chair, injuring themselves, they can sue you for compensation.
The amount of cover you require depends on the size and type of your business. Most of our partners offer £1 million cover as standard, with higher levels available if necessary.
If you work in an industry deemed to be high risk, you may need to get a specialist policy if the standard cover is insufficient or you do not qualify for it.
FREQUENTLY ASKED QUESTIONS ABOUT PUBLIC LIABILITY INSURANCE
What is Public Liability Insurance?

Public liability insurance is designed to protect you and your business against compensation claims, and any legal expenses incurred if a member of the public is injured or their property is damaged as a result of your business or a product it has supplied.

How much does Public Liability Insurance cost?

Some occupations work more with the public than others, and so your public liability insurance premiums will mirror the amount of risk you pose.  Cover is available from one million to five million pounds, depending on the level you require.

What occupations does Public Liability Insurance cover?

Those that can benefit from public liability insurance include tradesmen, hairdressers, shop owners, in fact anyone who works with or around the public on a regular basis.  It is important you let us know as much about your business as possible.  This ensures that you will get the right amount of cover for you, and that you will be able to work knowing you are constantly protected.

Why do I need Public Liability Insurance?

We would strongly recommend that all businesses purchase public liability insurance, because a compensation claim can have a big impact on your finances. An SME could even end up being bankrupted by the costs of such an action. It is a way of protecting yourself, your business and your employees.
QuoteSearcher really does make it so easy to find great deals on insurance. I completed their online form and was contacted by a number of insurers all competing to give me the best deal. This saved me so much time and money!
What a refreshing site! It actually does what it says on the label. This seems a bit of a rarity in the world of comparison sites! Well done on doing it properly.
Let us find the right public liability insurance for you...