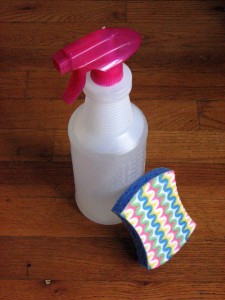 Spring is finally here, which means that most motorhome owners are starting to think about their next holiday. However, if your motorhome has been in storage for a number of months it could probably do with a bit of TLC and a good clean! Even if you are not planning on travelling just yet, having your motorhome ready to go is great if you decide to take a spontaneous trip, so here are some tips for cleaning your motorhome:
The Interior
Keeping your motorhome in storage is great for making sure it is safe when you're not using it; however it also means that once you take it out it will probably be extremely dusty! The first thing you should do is take it outside and open up all the windows and doors to give it a good airing out, and then get to work on getting the inside nice and clean. You will probably need to give your upholstery a good dust and even use a specially designed shampoo to make sure you get rid of all that deep down dirt. Just make sure you have time to let it air dry properly before you lock it up again or you could find your seats becoming mouldy!
The Exterior
One of the great things about the weather picking up is that you can spend a Saturday afternoon out in the sunshine cleaning your motorhome and enjoy the weather at the same time! Cleaning the outside is pretty simple however due to the size of motorhomes it can often be hard work! If you have a power washer this could really help cut down the time and effort you spend on cleaning your motorhome, otherwise you could always try and get the whole family involved to lighten the load!
Under the Bonnet
Once the inside and outside of your motorhome is cleaned and ready to go you need to do the final and most important step – checking underneath the bonnet. You need to make sure that your water and oil levels are all correct and that everything is working smoothly. It's also important to check your tyre pressures otherwise when you do head out you could end up wasting petrol! Don't forget that if you are not sure what you are doing then make sure you call a professional – the last thing you need is to break something expensive and have to claim on your motorhome insurance!
Getting your motorhome ready may seem like a big job, but when it is done you can start to get excited about all the trips you want to go on during the summer!