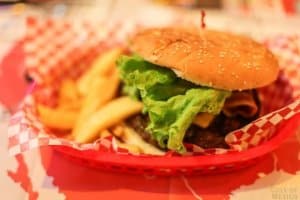 Takeaways and healthy eating has always been a problem in the UK with 66.6% of adult men being overweight and 57.2% of women in 2012. It doesn't make it any easier with a wide range of takeaways opening all over the country especially in deprived areas according to new research. We previously wrote an article on shocking facts about takeaways and there is no way any of these facts will change if more and more takeaways keep opening.
The studies suggested that there should be restrictions put in place for the amount of takeaways that can be opened because it can only get worse. This fast food is easily accessible to anyone which contributes to the high level of obesity especially within the poorest parts of the country.
If no change is made then there is fear that the UK could be filled with "food deserts" similar to America. These food deserts are deprived areas that have limited access to nutritious foods. In the USA Michelle Obama began a campaign called Let's Move! which promoted healthy eating and getting active. She also wanted to fight against fast food advert that were aimed at children however this campaign has had limited success.
The University of Cambridge has found that the amount of takeaway restaurants has increased by 45% in 18 years. Back then there were 2.6 outlets per 10,000 people however that has risen to 3.8. The poorer areas of the country have seen a 43% increase in the amount of takeaways opening around them. The less deprived areas have had a 30% increase.
The study was carried out in 2001 and researchers looked at the county of Norfolk for answers. Norfolk has a resident population of around 800,000 people and has similar characteristics to the rest of the UK meaning they could use the results as an average for the whole of the UK.
As a way to find out how many takeaway restaurants were in Norfolk researchers used the Yellow Pages to collect the data.
The researchers that are writing in the academic jounal Health & Place said: "Despite net growth in the overall number of takeaway food outlets across the study area, growth in the number of takeaway food outlets in the most deprived areas was especially strong."
Included in the survey was fish and chip shops, pizza and kebab shops, Chinese and Indian and fried chicken shops however cafes, restaurants, pubs and shops were not.
Cambridge's Centre for Diet and Activity Research (CEDAR), Dr Pablo Monsivais said: "The growing concentration of takeaway outlets in poorer areas might be reinforcing inequalities in diet and obesity, with unhealthy neighbourhoods making it more difficult to make healthy food choices.
"Our findings suggest that it might be time for local authorities to think hard about restrictions on the number and location of outlets in a given area, particularly deprived areas."
Some authorities have already put in some restrictions for example in 2012 Birmingham City Council stated that only one in 10 premises in a shopping area could be a takeaway restaurant. The City Council also limited the amount of new takeaway openings. Greater London's Authorities have also been talking about putting these limitations into place.
A spokesman for the National Obesity Forum thinks that is things don't begin to change then takeaways will "continue to proliferate." He said: "The Local Government Association wants legislation to help councils signposted in the first Queen's Speech of the new administration – it is high time that such a law was on the statute book."
The sooner things can change the better and if City Councils can begin to make people change the way they eat the percentage of obese people in the UK will decrease. This will mean a lot more healthy and happy people.
Photo by Pixabay