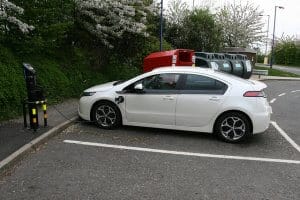 Renewable energy has become a hot topic over the last decade in a bid to lower our carbon emissions as a country. As a result, we have been given recycling bins presented with the option of solar panels, been repeatedly told the benefits of green power and now even have a choice of eco-friendly vehicles to purchase.
As a business it is now a given that you should be environmentally responsible, but what happens when you are a taxi driver? How is it possible for you to be environmentally friendly while getting from A to B? We have previously spoken about how taxis will adapt for the future and these eco-friendly cars are just one way. QuoteSearcher sheds some light as to how you can be eco-friendly and save some pennies at the same time:
Choose the Right Vehicle
The first and most obvious change you can make to reduce your carbon emissions is to drive an eco-friendly vehicle. There are a lot of options out there though so below are some of our favourites:
Hyundai i20 1.4 CRDi Blue Drive
First up is the Hyundai i20 1.4 CRDi Blue Drive "supermini" which has a 1.4 litre diesel engine that can provide 76.3mpg when on the combined cycle. When building the vehicle Hyundai concentrated on making it as aerodynamic and streamlined as possible. On top of this they also considered the tyres, which are low rolling resistance, and stop/start technology. This enables you, the driver, to get as many miles as possible from each litre of fuel, making you more energy efficient as well as cost-effective.
Seat Ibiza 1.2 TDI Ecomotive SC
The Seat Ibiza 1.2 TDI Ecomotive SC has a sportier feel than the Hyundai although it is just as eco-friendly. It achieves 80mpg on the combined cycle while only emitting 92 g/km of CO2. This model was released back in 2010, however it is still very much a modern car in terms of design and eco-friendly performance. Furthermore, it has start/stop technology, a 5-star NCAP rating, low running costs and looks great.
Peugeot 3008 Hybrid
The Peugeot 3008 Hybrid is the first hybrid in the list which manages 83.1mpg, which is pretty impressive as it is also a four-wheel drive. It is a diesel hybrid which means that it doesn't encounter the same issues that petrol hybrids face on the motorways, and it has exceptional fuel economy on both long and short journeys. At the time it was launched this vehicle was the first road-going diesel hybrid production car. Since then the vehicle has been revamped and has greater efficiency as it can run on electric power alone when you are making shorter journeys.
Vauxhall Ampera 235.4mg
For a taxi driver, the Vauxhall Ampera 235.4mg is probably the most environmentally efficient vehicle you can drive at the moment as it achieves 235.4mpg on the combined cycle. This vehicle uses a different hybrid system to the ones you may be used to, so much so that Vauxhall call it a "range extender" rather than a hybrid. It can run solely on electricity for 50 miles and once your charge runs out the engine kicks in, switching the charge to the batteries in order for you to keep running on electricity.
Washing your Vehicle
It may sound strange but when it comes to washing your taxi some methods are more environmentally friendly than others. You may think using a bucket of soapy water and a hosepipe is the most efficient way of cleaning your vehicle, however it's also extremely bad for the environment. Here are some ways that are more environmentally friendly!
Professional Car Washes
A large proportion of commercial car washes are much more eco-friendly than you would imagine. This is because many places will recycle the water and reuse it, as well as send the used water into sanitary sewer systems. This means that local waterways are not polluted.
Preparation
Most motorists start washing their vehicles by blasting them with a pressure washer or hose pipe. However, this is a waste of water and is therefore not environmentally friendly. Instead, you should consider scraping any bugs or debris off your vehicle first as this will enable you to wash your vehicle more quickly.
Soap
The least environmentally friendly part about washing a vehicle is the soap. With this in mind choose a biodegradable, water-based and phosphate free version. This will stop any chemicals making their way in to the waterways.
Driving in a More Efficient Manner
Another way of making your taxi even more environmentally friendly is to change your driving habits. Here are some tips for "eco-driving" that will not only reduce your carbon emissions but also your fuel costs:
Smooth Driving
By having a constant and smooth driving style you will automatically drive more efficiently. Aggressive acceleration and braking is not good for your fuel tank or the environment. Getting into the highest gear as quickly as possible can also help save fuel!
Extras
It is important that you switch off any extras if you are looking to save fuel. Air conditioning and heating use a huge amount of power so once you have reached a suitable temperature be sure to turn anything off you don't need.
There are many ways your can become more environmentally friendly as a taxi driver, you just need to consider what impact your vehicle and driving style have on the environment. By consciously changing your habits not only will you be able to reduce your carbon emissions but also save money too!
Photo by (Mick Baker)rooster / CC BY-ND 2.0