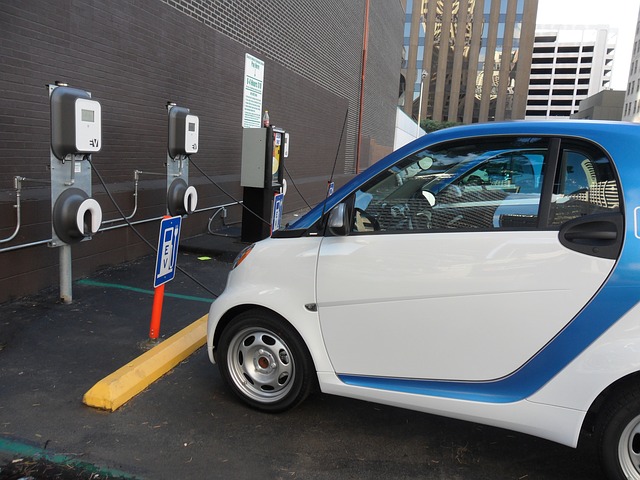 Fleet owners are slowly but surely bringing in electric cars to their fleet as they are becoming ever more popular. As each car manufacturer rolls out their new electric car model the competition is becoming higher so there must be some that are better than others. Fleet managers are increasingly investing in electric vehicles so here are some ideas of the top electric cars to buy for your fleet in 2015.
Renault Kangoo ZE
Fantastic for fleet owners the Kangoo ZE is one of the best vans in the electric van market and the price tag isn't too high either. Including the Government grant of £5000 the price of the ZE is just £15,495 and the van can travel 100 miles on one single charge. With an equivalent MPG of 196 the Renault Kangoo ZE beats conventional vans which offer just half of that in fuel economy. The van has zero tailpipe emissions which means it qualifies for subsidies like a reduced company car tax rate.
Mitsubishi Outlander PHEV
This is one of the only hybrid cars that doesn't change in price due to its hybrid technology which is great news for anyone wanting to buy a SUV vehicle. Including the government grant the entry level GX3h model costs £28,249 which is the same price as the GX3 diesel car. The hybrid car has an average 44g/km or CO2 emitted through the tailpipe however there is an option to get a pure electric mode offering zero emissions and a 32 mile range. This SUV is top of the range of electric cars due to its combination of size, performance and fuel economy.
Audi A3 e-tron PHEV
This is the first of Audi's hybrid cars and it has a four-cylinder turbo 1.4 petrol engine alongside a 75KW electric motor. The car can travel 30 miles in its electric mode at up to 80 mph and the 203 bhp allows the car to accelerate from 0 to 62 mph in 7.6 seconds and reach a top speed of 138 mph. The combined fuel economy is 188mpg.
Volkswagen e-golf
Volkswagen Golf's are a popular car therefore with its new electric model, sales should boom. The car can travel up to 118 miles and boasts fantastic performance with a sporty feel and zero tailpipe emissions. The e-golf –goes from 0-60 in 10.4 seconds and reaches speeds of 87mph and on top of that it takes under 30 minutes to charge from a rapid charge point. The car costs around £25, 845 including the £5000 government grant.
Tesla Model S
The Tesla Model S travels faster than many AMG Mercedes models that achieve 10mpg on fossil fuels and also has a range of 260 to 320 miles depending on how you drive it. Any Tesla owners get free access to charging points in the UK due to Tesla's supercharger network. The charging points pump out 120KW which will charge the car 80 per cent in just 20 minutes. With its zero tailpipe emission, fast speed and quick charging time the Tesla has been a huge hit all around the world and was awarded with the 'World Green Car of the Year' in 2013.
Volkswagen e-Up!
Offering a range of 100 miles the e-Up! is fantastic for any city driver trying to get from A to B. The energy efficiency of the vehicle is impressive however it is an expensive car costing £19,270 including the grant. The car accelerates from 0-60mph in 12.4 seconds and reaches a speed of 80 mph. This is one of very few electric cars that is compatible with both AC and DC rapid charging.
BMW i3
This BMW is different to most other cars as it is made from a mixture of carbon fibre and reinforced plastic. The i3 boasts 170bhp, accelerates to 63 mph in less than 8 seconds and has a top speed of 93mph. With a driving range of 80-100 miles the all-round experience in the i3 is fantastic and it is one of the first cars offering a inlet compatible with CCS charging connectors. The zero emission car won the 2014 'World Green Car of the year'. The BMW i3 is priced at around £25,680 including the grant.
Nissan LEAF
The best car for your fleet collection would be a Nissan LEAF which has been upgrades since the 2011 version. This family car is ideal for travelling from A to B and the 2013 model is even more refined. The driving range is now 123 miles and since the 2011 version they charging time has been halved. The LEAF comes in four different models; the Visia, Visia+, Acenta and the Tekna and it is the most popular electric vehicle in the UK.
Photo by Pixabay