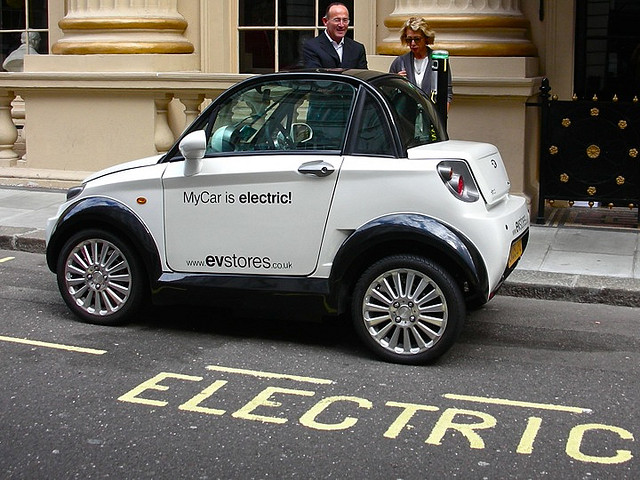 London Mayor Boris Johnson has recently been asked to "rethink" his plans for an Ultra-Low Emission Zone (ULEZ) in London. The plans were previously proposed to begin in 2020, however the UK motor industry wants the Mayor to enforce "more ambitious" emission standards for both unleaded and diesel cars .We have previously written about how fleet managers are increasingly investing in electric vehicles however these plans may encourage them further
It's been reported by the campaign group Clean Air London (CAL) that there have been around 7,500 fatalities attributed to nitrogen dioxide and particulate matter in the London area alone. This is one of the reasons as to why the ULEZ has been set up, and more recently CAL has estimated results are significantly higher than previous years.
Most people are welcoming the plans for a ULEZ to be set up in London, including the Society of Motor Manufacturers and Traders (SMMT), however they do think that London should "set the benchmark for the world's great cities" by putting in place a scheme which "demands the very best in vehicle technology."
Mike Hawes, chief executive of the SMMT, wrote a letter to Boris Johnson and called for the ULEZ to require the "latest European emission standards – Euro 6/VI – across all vehicle classes regardless of the fuel type."
The ULEZ proposals currently allow Euro 6 standard diesel vehicles and 2006-standard Euro 4 petrol vehicles, however Mike Hawes sees this as a "missed opportunity" because they will be 14 years old by 2020. "The scheme would therefore allow petrol vehicles up to 14 years old to enter the zone without penalty," Mr Hawes added.
Hawes went on to say: "The implementation of the ULEZ will accelerate the take-up of ultra-low and low-emission vehicles, but a harmonisation of standards – a technology-neutral approach – for petrol and diesel vehicles would strengthen the initiative.
"Currently the proposed requirements differ for cars and vans. We are urging London to be more ambitious with a universal standard for both petrol and diesel vans and cars which would remove any confusion, strengthen the uptake of cleaner technology and bring air quality benefits sooner.
"The automotive industry is investing billions of pounds in the UK and abroad to develop technologies to lower vehicle emissions. The ULEZ can accelerate the take-up of these cleaner technologies and bring air quality and carbon reduction benefits to London sooner."
Some older diesel models have been blamed for contributing towards nitrogen dioxide and particulate matter pollution in the city, however manufacturers have claimed that they are doing what they can to make their diesel vehicles cleaner. The SMMT claims that the diesel vehicles being built today are some of the "cleanest ever made", capturing over 99% of particulates.
Mr Hawes believes that changing the current ULEZ scheme to enforce the EU emission standards would "encourage fleet renewal in the market, incentivise the uptake of the best in clean technology and create economic growth and jobs in London and the UK."
The managing director of TFL's planning, Michele Dix, added: "Improving London's air quality is of paramount importance as it affects the health and well-being of every Londoner.
"That's why we are doing everything in our power to address emissions from road transport, with the introduction of a ULEZ core of our work to improve the capital's air. We would urge everyone who lives, works or travels in London to give us their views on the ULEZ proposal."
These new plans could potentially be very costly for fleet owners who only have older vehicles which could be banned from the Ultra-Low Emission Zones. Fleet owners may therefore have to think about buying new fleet vehicles so that drivers can carry on with their jobs within London. On the plus side it will mean less pollution and fleet owners may even consider going green and buying electric vehicles!