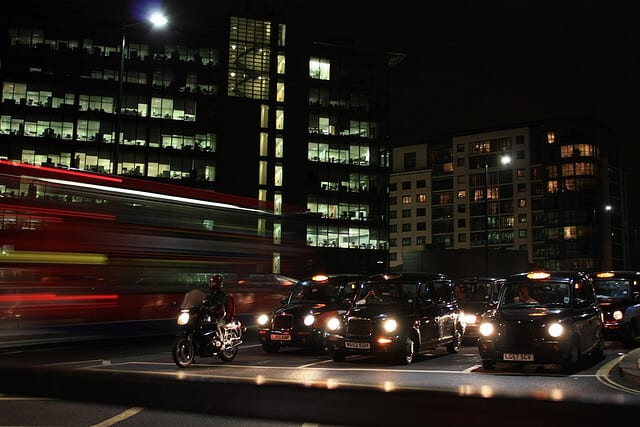 Christmas is a busy time of year for most people, which is why taxi drivers often see the amount of fares they take on each shift increasing considerably. However, Christmas is also a very expensive time for most people, which is why some try to take up taxi driving over the festive period in order to make additional income. Christmas taxi drivers are therefore both loved and despised, as even though they help tackle the influx in passengers looking for rides they can also cause issues in the industry. This is why in this week's blog QuoteSearcher investigates the rise of the Christmas taxi driver:
Taxi Drivers over Christmas
Most people associate Christmas with taking some time off and relaxing with the family – but not taxi drivers! Christmas is one of the busiest and most profitable times of the year for taxi drivers, which means that throughout the month of December most will work long shifts including late nights and early mornings. Large cities such as London are particularly busy during December as people start to go on shopping trips and nights out with their friends and family, which is why one taxi App has recently tried to take advantage of the market. GetTaxi announced this week that by using their App customers will be able to travel 10km in zones three to six for just £5.
Discussing the plan, GetTaxi's UK boss Remo Gerber said: "We believe by introducing these fantastic flat and fixed prices, consumers will see the huge benefits of taking black taxis over minicabs. Plus all our drivers are fully licensed and undergo extensive CRB checks. It's definitely the safest way to get around London this festive period." GetTaxi will supplement drivers' fares in order to encourage them to take part in the scheme, however drivers which are not part of the GetTaxi business are claiming that this is unfairly impacting competition.
Becoming a Temporary Taxi Driver
If you are looking to make some extra income over the Christmas period then you may have already considered becoming a taxi driver. However, this is easier said than done as in order to become a taxi driver you need to apply for a licence, pass a criminal records check (CRB), have a medical, complete a driving skills test and ensure that your vehicle is suitable to be used as a taxi. All of this takes both time and money, meaning that it may already be too late for some to take advantage of the Christmas period. Furthermore, many local authorities have restraints on the amount of public and private taxis are allowed in their constituencies and they will generally give precedent to taxi drivers who work in the industry full time. This unfortunately leads to a number of issues…
Issues with Temporary Taxi Drivers
As already shown, becoming a taxi driver isn't easy, which is why there are those that try to break the rules and illegally offer their services during the Christmas period. During December police around the country increase the amount of taxi drivers they pull over to check that they are trading legally and they also tend to launch campaigns reminding people to never get into an unlicensed minicab. Unfortunately, illegal taxi drivers are not only a danger to themselves but also the public as their vehicles may not be in good condition or covered with taxi insurance and it is also unlikely that they will have CRB checks. This means that if they are involved in an accident they will not be covered and there have even been cases of illegal taxi drivers being violent towards their fares.
If you are thinking of becoming a taxi driver over the Christmas period you must make sure you go through the proper channels otherwise you could find yourself facing a fine or even prosecution. If you already work in the taxi industry it's important that you look out for illegal minicabs over the Christmas period and report anything suspicious straight away. Not only will this make sure that the industry isn't taken advantage of by rogue traders but that passengers remain safe throughout the Christmas period.