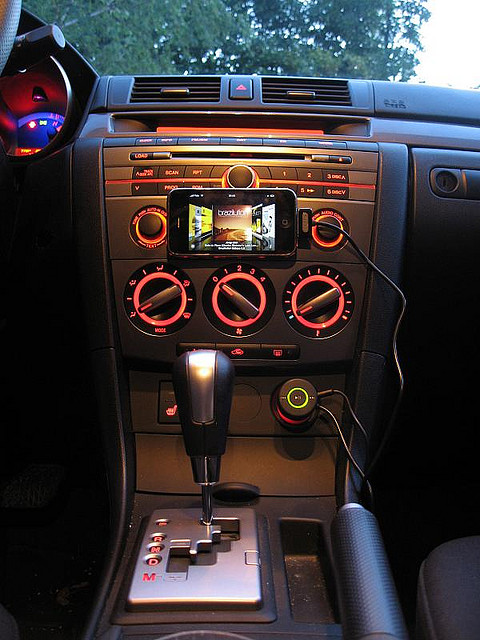 These days almost everyone owns some sort of smart phone or mp3 which they use to listen to their favourite songs, however it's not always easy plugging this type of technology into your car stereo. Older cars generally don't have USB or Aux inputs that connect smartphones or mp3s to stereos, which can be very frustrating when you are fed up of the repetitive songs on the radio! As always though, new technologies have been invented to remedy this issue. We have previously spoken about Apple inventing a device to stop drivers texting and here is another one of their fantastic ideas…
At the beginning of this year Apple launched CarPlay which connects iPhones and everything on them to on-board computers. CarPlay can do everything from play music, make calls, find directions and send or receive messages whilst still allowing you to focus on the road. Using Siri, you can dictate what you want doing and off it goes!
Unfortunately, this technology can only be used in newer cars so below is some help for older ones…
Cassette Adapters for Smart Phones
Let's start from the beginning: yes, some cars do still have cassette players even though tapes are not manufactured anymore, however if you own a car with a cassette player there is a way to use your smart phone with your stereo. Cassette adapters convert the sound from the mini-jack to the modified cassette which you can then connect to your smart phone using an Aux cable. This invention has been around for years and was even previously used for portable CD players to be connected to vehicles.
Cassette adaptors can be bought from almost anywhere and if you search on Google numerous results will pop up. Anywhere from Amazon to Argos sell them and they range from about £1.99 to £20.00, but don't buy them too cheap because the quality won't be as good. Once you have bought your adaptor all you have to do is insert the cassette into the tape deck, connect your mp3 device and hit play!
CD Players
Unfortunately, there is nothing you can use alongside traditional CD players as the disc spins meaning adaptors are unable to work. However, there are other options such as…
FM Transmitters
An FM transmitter works by broadcasting your smart phone's music onto a radio frequency that matches up with a transmitter. Even though these devices may cost a little extra they are well worth the money as they play reasonably high quality music. FM transmitters cost from £10.00 to £40.00 depending on the quality of the product.
This is one of the best solutions for most cars however there are still problems with FM transmitters because of the huge amount of radio stations out there. As with many radio stations you can experience interferences so it could take a while for you to find the perfect frequency. Furthermore, the frequency can often change depending on where you are so you might have to search for the right one all over again.
Car Stereo
An alternative to adaptors is purchasing a new car stereo with the option to connect your mp3 player. Even though this may be the more costly option it will most certainly work best and provide higher quality music. Shops like Halfords sell car stereos with USB ports and all-singing and dancing features which range from £40.00 to £1000.00 for the more fancy ones with Sat-Nav and much more. Before purchasing a car stereo you will need to find out whether the stereo will actually fit into your car and then ask if your device works with the stereo because they are all different. Sometimes you can find that even though the music plays through the USB adaptor it may not charge your phone so you should keep these questions in mind.
The best way to find the right stereo is to visit a showroom so you can ask all the questions you need while viewing the product in action. Even though buying a new stereo may be the most costly way of solving the issue of smart phone connectivity in the long run you may end up saving money as FM transmitters and cassette adapters can break quite easily.
Before buying any of these products you must do your research because it may be worth spending a bit more money for a better quality product.