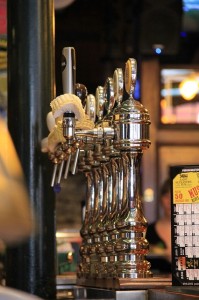 It has recently been announced that the pub giants Spirit and Greene King have come together to agree a £723 million takeover. The two businesses aim to create a pub company which has the highest sales in Britain, and when the two companies merge they will own over 3000 pubs nationwide, coming close behind their two rivals Enterprise and Punch who own 5,500 and 4,000 premises respectively. We have previously written about making the most out of your restaurant, and as we can see these two pub owners have certainly made the most out of this business venture…
Greene King is not only a pub retailer but a brewer as well and was established in 1799. Running over 1,900 restaurants, hotels and pubs that are managed, leased and tenanted the company won't be going bust anytime soon! Loch Fyne, Old English Inns and Hungry Horse are just a few of the hundreds of pubs, restaurants and hotels run by Greene King. The company also produces famous beers and ales such as IPA, Old Speckled Hen, Abbot Ale and Belhaven Best, and even has a museum where you can see how far they have come in the last 314 years.
Spirit is a slightly smaller pub company however its goal is to be the number one hospitality business in the UK. Spirit owns over 1,200 high quality pubs and boasts a portfolio of award winning brands. Most of the pubs are based in strong economic areas with 35 per cent of their estate in the London and South East regions. Spirit owns chains such as the Chef & Brewer, Fayre & Square and Flaming Grill, as well as more than 450 leased pubs in the Spirit Leased Division ranging from local sports pubs to premium pubs.
Even though Greene King doesn't own as many premises as Enterprise and Punch it still has a combined sales of over £2 billion a year compared to Enterprise's £640 million and Punch's £460 million. The offer was first put to Spirit to merge with Greene King for £660 million and even though Spirit eventually negotiated £723 million the final bid won't come until Spirit's books have had a full examination. Shareholders of Spirit will receive 29 per cent of the company when combined with Greene King and each Spirit share will offer an all-share price of 109.5p.
Spirit shareholders will therefore make 45 per cent on top of what they earned before the merge. Previously, Spirit merged with their rival pub owners Punch and then demerged in 2011, meaning shareholders of Spirit will now be earning almost double the 51p they made when they merged the first time.
In fact, this merge could be one of the biggest in the pub sector for many years, meaning Rooney Anand, chief executive at Greene King, will need to step up to ensure the business moves forward and adapts to a higher-end food market. A cut back of tenanted and leased estates also has to be made so that the businesses can focus on more profitable pubs within their estates ensuring their profits and revenues remain higher than their rivals.
When analysed, figures show the pub owners could end up saving themselves a whopping £35 million a year from the merge, with Mike Tye (who ran Spirit since they left Punch in 2006) expecting to make over £5 million in shares, pay-offs and options. Meanwhile, the shares at Spirit pubs have increased from 7p to 98p and analysts have said that there is little chance of any rival bids from other "pubcos".
Spirit and Greene King have not yet agreed on a name for the combination of the two pubs though it is likely to stay as Greene King. Greene King has already announced that they want to stock more of their home brewed beers such as IPA and Abbot in the 450 Spirit pubs it will now own within the M25 alone. In comparison, Fuller's and Young's have around 400 and 200 pubs in the same area respectively, meaning that the merge won't just benefit the two companies but also place them as some of the biggest players in the market.
Photo by Pixabay