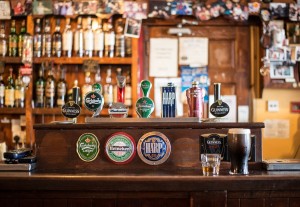 The pub industry has been hit hard over the past few years due to huge chains and supermarkets selling cheap alcohol. Pubs all around the country are being affected by large chains such as Wetherspoons due to the prices of their drinks. The British Beer & Pub Association has said that every week in Britain 52 pubs are closing their doors for the last time. Statistics have also shown that since 2002 the cost of a pint has increased by £1.21 and in 1982 there was a total of 67,800 pubs in the UK whereas now there are only 48, 006. If you are one of the many pub landlords that are worrying about their businesses then make sure you try our top tips to keep your pub successful…
The Staff
As a pub landlord you need to be careful who you choose to represent your company. A lot of pub owners will employ young students who need part time jobs while at college or university or those who are saving to go traveling. This is beneficial for landlords as it means they have a high staff turnover and always have people wanting to work for them, but on the downside they do not always employ staff that have a passion for their jobs.
When it comes to candidates landlords must make sure that they employ people who are hardworking and will represent their company well. If they have a passion for pubs then this is a huge plus as they will want to come to work and enjoy it.
Trial shifts are a great sign as to whether a candidate fits the job description or not and you will soon learn if they are willing to learn and work hard. The timing of the trial shift is very important as you don't want them standing there with nothing to do in an empty pub but you also don't want them to be over-whelmed. Working behind a bar should be picked up pretty quickly however you must make sure that you have pub insurance in case anything goes wrong.
A worker that interacts well with customers (especially the locals that spend the most money) is the perfect kind of employee because they will create a great returning customer base.
Customers
Where you are based and the type of pub you run will determine the type of customers that come into your pub. If you are a high end pub selling reasonably expensive food and wines you are more likely to get wealthier customers, therefore you must make sure that your pub is up to the right standards. You cannot have slow service or an untidy pub, everything must be on point.
Customers will not pay extra money for a pub that is not worth it. When customers enter a pub that isn't as expensive they will expect the service and surroundings to be less high class. After all, you get what you pay for.
Events
Most landlords create events or special offers that will draw the attention of customers and entice them into their pubs. On any weeknight you could offer two for one main meals or some sort of meal deal which will save customers money. Themed food nights are also a great idea, for example a steak night for £9.99.
Live music is the perfect way to make money as well a great buzz around your pub and you will generally also end up making more money than usual due to customers eating and drinking for longer. Fridays and Saturdays would be the best nights to set up these types of events.
A pub quiz will also bring in customers as usually people come in groups to participate and socialise with their friends. Pub quizzes usually last a couple of hours so customers will be buying drinks or even food while they play.
Advertising
Getting your name out there is one of the most important ways to win business. Flyers, posters, social media and a website are the best ways of doing this.
When you have your special evening events you should create posters or flyers that you can hand out or stick up around the area so that people read it on their way past. You could also give out flyers to local businesses offering them money off their first visits.
Social media is a great and free way to promote your business. You should advertise all the events you are holding and put up pictures of the pub, food, drink, staff and anything else you can think of. As social media is booming people often go straight to social sites to find out information about a business so make sure you put everything you can think of online so that people don't have to go far to find you.
Overall, keeping your pub running is a time consuming and expensive task but once it gets going and you see the results it will be well worth it. Put as much effort in as possible and be willing to spend money in certain areas and you will more than likely to see results.
Photo by Pixabay