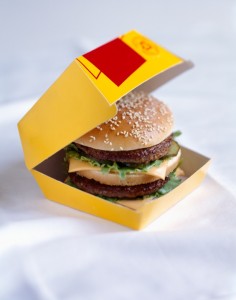 Burger restaurants are becoming more and more popular in London, and luckily for burger fans there are a considerable amount of burger restaurants and pop up burger vans to choose from. Per average cheeseburger you will be eating around 350 calories depending on where you eat, and that's not including any sides or extras! These facts do not seem to stop the thousands of people who visit these restaurants every week however, nor the dozens of restaurateurs who are taking out restaurant insurance and expanding into the burger business every day.
Whether you are a massive burger fan or are thinking of opening your own burger restaurant, check out these most popular burger restaurants in London.
Honest Burgers
Honest Burgers has seven different restaurants all around London, including in Brixton, Soho and Kings Cross. With its whitewashed walls and vintage light bulbs, it delivers a unique experience. The restaurant has tables inside and out meaning it is great for the summer days. The burger prices range from eight to ten pounds and they also offer gluten free buns for an extra 1 pound. All burgers are served with a side of chips. The burgers are served medium/pink unless you state otherwise to your waitress. Side orders consist of onion rings, coleslaw, or a green salad, all costing two pound fifty. The burgers have a beautifully glazed bun and the meat is juicy and of great quality.
MEATliquor
There are ten different 'MEAT' chains consisting of MEATMarket, MEATMisson, MEATWagon, CHICKENLiquour and MEATtransMISSION. MEATliquor has three branches based in London, Leeds and Brighton. The MEATliquour London restaurant does takeaway and delivery meals. You cannot reserve tables at MEATliquor and there are often queues so make sure you have a free evening when you go because you won't know how long you could be waiting. The burger prices start at six pounds fifty and go up to eight pounds. They also sell steak or pork in buns, costing eight pounds fifty. The sides, including coleslaw, fries, onion rings and more, cost three to six pounds fifty. The meat is juicy and full of flavour and MEATliquor also creates incredible cocktails (hence the name!)
Boom Burger
Boom Burger is a burger restaurant with a Jamaican twist. They serve chicken, beef, pork, fish and vegetarian burgers all in a Jamaican style, with the chicken burger being jerk chicken. The burgers range from £6 to £9 and fries cost an extra £2. You also have the choice of sides including plantain fries, jerk wings and salt fish. The restaurant sells what they call 'Boom Juice' which is a choice of drinks including ginger beer, red stripe, rum and mixer and many more. There is a choice of three Jamaican cocktails costing six pound fifty each. The restaurant is based in Notting Hill and does takeaways and deliveries.
Patty and Bun
Patty and Bun does eat in and take away food and is located in James Street and Liverpool Street in London. The burgers cost from £7.50 to £8.50 and extra bacon costs 50p more. Chips, side salad and coleslaw all cost around £3 and they also do chicken sides including wings and chicken thighs costing £5.50. The restaurant sells beers, spirits, wines and soft drinks and also has biscotti ice cream for dessert. Patty and Bun started as pop up restaurants around London and has finally found its home at the two different locations. Their signature burger is the 'ARI GOLD' which consists of beef patty, cheese, lettuce, tomato, pickled onions, ketchup, smokey mayo and a brioche bun. The Liverpool Street branch also sells breakfast on Monday to Friday from 7.30am to 9.30 am where you have a choice of a bacon, sausage or vegetarian burger.
London has hundreds of burger restaurants that are worth a try so if you are a burger fanatic then London is the place to visit!
Photo by Michael Saechang / CC BY-SA 2.0