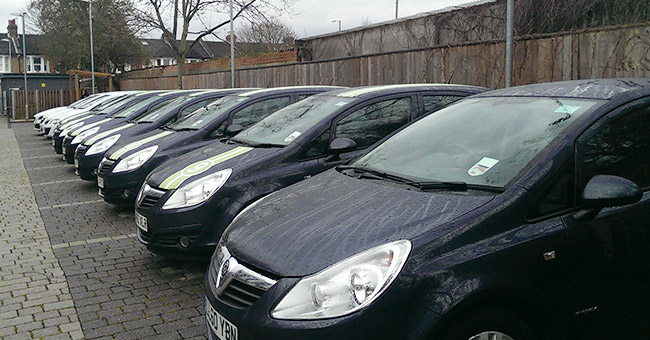 When your business has a fleet of cars you must make sure you have suitable motor fleet insurance with business use cover. When it comes to getting insurance, you need to make sure you select 'Social and Business' when it asks you about the use of the vehicles in your fleet. Business policies will cover drivers for a whole range of uses and generally anything that is on behalf of the company. When adding business insurance, although you will end up paying more on your premiums, it will be well worth paying in case of a collision or accident.
When applying for motor fleet insurance, insurers will ask you a number of questions so you will need to make sure you know everything about the vehicles in your fleet. They may also ask questions about the nature of your business or the amount of time drivers spend behind the wheel so come prepared. There are many different types of business insurance policies that all cost different prices, but insurers can help you find the right one. The different types of business insurance are:
Class 1 – Cover for the main driver driving to other sites that aren't their normal places of work. A spouse may be covered for business use too.
Class 2 – Covers the policy holder and a named driver for business use. The two named drivers should work in the same occupation.
Class 3 – Covers for the transportation of light goods and some selling purposes.
When looking for a policy you will notice that each one has different aspects to them so it is always a good idea to speak to someone to find out which one is right for you. It's also a good idea to read the terms and conditions otherwise you could receive inadequate cover.
Recently, telematics specialist Masternaut has revealed that around a third of British drivers who drive as part of their job are uninsured for business miles. If you use a car for any type of business purpose, from delivering goods to visiting clients, you must have an insurance policy that covers you if you are involved in an accident. Unfortunately, not only has Masternaut shown that many drivers don't have this type of cover, they have also revealed that a considerable amount of employees don't have the necessary training for driving business vehicles.
Around 70% of people questioned by Masternaut said that their employers don't offer them training that promotes safe driving, even though they are legally obliged to do so. Just less than half of British drivers are not aware that this legislation is in place, so they don't get the chance to train or learn how to improve their driving while on the job.
People who drive on the job add up around 4,708 uninsured miles per year with 19% saying that they have previously had a collision or accident while driving for work. Even worse, 80% of these people said it would be their responsibility when asked who would be liable for an accident, but 20% thought it would be their employer's fault!
Martin Hiscox, CEO and chairman of Masternaut, said: "Driving for work is recognised as one of the most dangerous occupations and these findings clearly demonstrate a vital need for employers to educate staff on safe driving practises. There is a clear need for this to happen and the technology, the tool-kits for training, monitoring and improving driver behaviour all exist. The insurance industry is spending £2.2bn in claims annually, processing over 792,000 claims for commercial fleet insurance. This is the tip of the iceberg when you consider on-costs, downtime and the cost to businesses that self-insure".
"It raises a bigger issue for employers about not having visibility of their mobile workforce, so they can ensure they are safe and can put steps in place to spot problems and deal with them. The Telematics industry is making huge steps to help the commercial fleet but even now we are surprised that so few employers are offering their staff the chance to take driver training, to ensure they're kept safe whilst on the road and helping them be safer and more efficient."