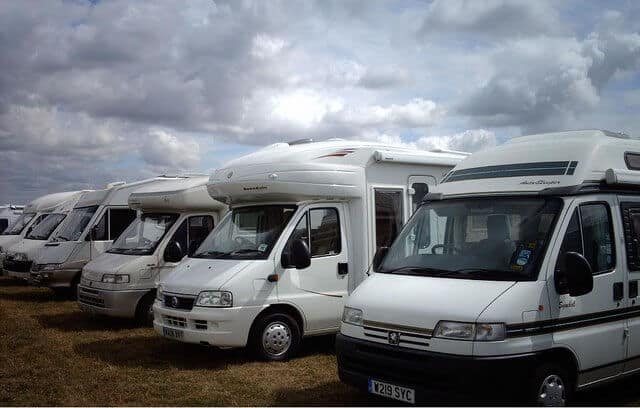 Even though it's technically summer here in the UK that doesn't mean we are guaranteed warm weather and sunshine, in fact you can pretty much guarantee that it will rain at least once or twice over the next few months! Therefore, if you are planning on going on a motorhome holiday this summer you need to be aware that you may not get great weather, however this doesn't mean you can't have a great time. Here, QuoteSearcher shows you how to enjoy your motorhome holidays no matter what the weather:
Rain, Rain and more Rain
If there is one thing England is known for it's the amount of rain we have, which means you need to prepare for a few soggy days during your motorhome holiday. Before you head off on your journey, plan some activities that you can do inside your motorhome such as playing board games, baking cakes and biscuits or even just watching a DVD. If you are unfortunate enough to go on holiday and it rains for a long period of time you may just have to accept the fact that you are going to get wet and venture outside, so make sure you bring wellies, coats and lots of layers to keep you warm. One good thing about rain is that children absolutely love it as it means that they get to splash in puddles, and as long as you are wrapped up warm you can have a go too!
Sunshine and Warm Weather
So far we have had a good amount of sunshine this summer and hopefully this means we will see even more over the next few months. However, even though most people look forward to the sunshine that doesn't mean you don't need to prepare for it, as too much of it can be bad for your health. If you are travelling with young children or elderly people you need to be particularly careful on hot days as they can become dehydrated very quickly, so encourage everyone you have gone on holiday with to drink plenty of water and apply sun cream on a regular basis. It's also a good idea to make sure everyone takes a break from the sun every now and again so that they don't get sunstroke. The last thing you want is for everyone to be ill on your holiday because they spent too much time in the sun!
Wind and Storms
Unfortunately, motorhomes aren't built to withstand strong winds and heavy storms, which means that you need to be particularly careful if you are driving when a storm hits. If you are driving and the weather starts to become dangerous pull over to the slow lane and reduce your speed. If you are caught in a particularly bad storm you may have no other option than to pull over on to the hard shoulder or get off the motorway at the next available junction. If you are already in a campsite and there is a storm pack away all awnings as quickly as possible as they could easily blow away or even attract lightning. Don't forget that young children and pets can often be scared by thunder and lightning so take extra special care of them until it passes.
Snow and Cold Weather
Even though it is extremely unlikely that there will be snow in the UK over the summer, if you are travelling abroad to a ski-resort you will need to know how to handle it safely. If you are heading to an area where there will be a lot of snow then it is advisable for you to fit winter tyres to your motorhome before you head off. As driving and camping in snow can be quite dangerous it is also a good idea to have your motorhome fully serviced before you leave for your trip in order to ensure that everything is working as it should. Don't forget to also bring a first-aid kit, details of your motorhome insurance policy and multiple mobile phones so if you do get into any trouble you will be able to look after yourself. By preparing in advance not only you will be able to stay safe but you will also have a more enjoyable holiday!
Photo by Mark Hopkins / CC BY-SA 2.0