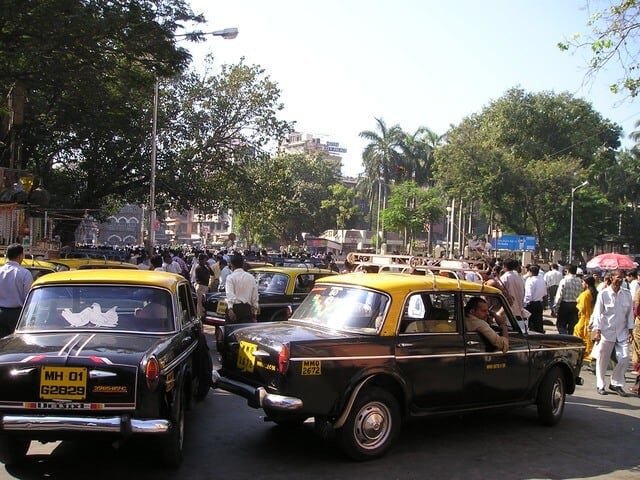 If you ask anyone in the world about the UK one of the first things that will come up is our iconic black taxis, along with The Queen, fish and chips, and lots and lots of rain. However, even though Hackney Carriages are some of the most iconic taxis in the world, they do have their rivals. Furthermore, the ways in which taxis work in other countries varies, so here we look at some of the most iconic taxis from around the world and how they differ from those in the UK:
Yellow Taxicabs, New York
Watch any film based in New York City and you will see dozens of yellow taxicabs in the background. In fact, the yellow taxicabs of New York are almost as iconic as Hackney Carriages, especially the Checker cabs which have a black checked design on the side. At the moment, there are two common types of taxis in New York: yellow taxis which are able to pick up passengers in all five boroughs, and apple green taxis which are allowed to pick up passengers in Upper Manhattan, the Bronx, Brooklyn, Queens and Staten Island (the suburban areas). Private hire vehicles are also available in New York, however these are usually executive cars which come in black and are generally only used for special occasions.
Rickshaws, Japan, Singapore and China
Rickshaws were first invented in 1869 in Japan, and since then they have become popular around the world. When they were first invented they were primarily used by the middle classes as those that 'ran' the rickshaws were generally those from poorer areas of Asia. After the Second World War it was declared that man-powered rickshaws were not only dangerous but also demeaning to those that had to run them, which is why cycle rickshaws were introduced. Now, many modern rickshaws are powered by small motors, however there are some cycle rickshaws left in America, Europe and Asia which are generally viewed as novelties.
Premier Padmini Taxis, Mumbai
If you have never been in a taxi in India before then you may want to brace yourself as it's often a bumpy ride! Traffic in Indian cities such as Mumbai and New Delhi is infamous due to the fact that millions of people live, work and travel in these cities on a daily basis. The Premier Padmini taxi is possibly the most famous taxi in Mumbai due to its iconic style: black with a yellow roof. Many of these taxis are also decorated inside with colourful upholstery which adds to their eye-catching design. Unfortunately, a new law passed by the Indian government means that taxis over twenty years old are now banned from operating, so we may start to see less of these classic vehicles on Mumbai's roads.
Taxis Parisiens, Paris
Parisian taxi drivers often hit headlines due to the fact that they are fiercely protective over their industry and have a powerful union. A few years ago the French government tried to introduce private hire taxi services in the country's capital, however many French taxi drivers felt that this was encroaching on their businesses and so decided to arrange a protest. They have also recently protested against taxi drivers using Uber in France, which has led to the government banning private car services using GPS-enabled Apps such as Uber and their competitors. Unfortunately, this means that there's not much competition in the Parisian taxi industry, so if the weather is bad you may struggle to find one to pick you up!
Red, Green and Blue Taxis, Hong Kong
In order to decipher which taxi you require in Hong Kong you need to learn their system. In Hong Kong there are three different coloured taxis: red which are known as 'urban taxis' and are allowed in all areas of the New Territories, Kowloon and Hong Kong Island; green or 'New Territories' taxis which serve only parts of the New Territories; and blue 'Lantau' taxis which can only travel in southern Lantau Island, Tung Chung, the Airport and Disneyland. Generally, red taxis are the most expensive, followed by green and then blue taxis, so when looking for a taxi in Hong Kong make sure you pick the one that is right for you!
We often don't remember that the way in which taxis work differs from country to country, along with their customs and rules around taxi insurance. So if you're thinking of travelling to a foreign country in the near future make sure you know about their taxi services first!
Photo by Pixabay