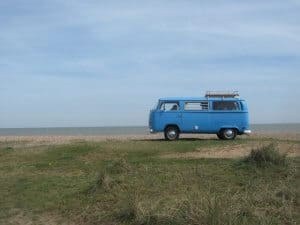 Summer is fast approaching and the temperatures are getting warmer, which means that motorhome owners across the country are starting to think about their holidays and yearning for the beach. However, a motorhome summer holiday doesn't just have to be about sandy sandwiches and busy motorways, as there's so much more to see and do in the UK! So here are our five top tips for an amazing, alternative motorhome summer holiday:
Get Fit on Holiday
Holidays are usually a good excuse to over-consume food and drink and sit back and relax. This means that most of us put on a few pounds while away and sometimes even come back feeling even worse than when we started! However, using your motorhome to get fit can actually be a fantastic way of spending your holiday.
First of all, think about implementing a good fitness regime. Whether your passion is running, swimming, cycling or yoga, your motorhome is the perfect vehicle for sourcing out the best spots in the UK. Some motorhome owners even enter a big race or marathon at the end of their holidays as it's something great to work up to!
Have a Foodie Break
Hotels can be nice, but their major downfall is that they don't have a kitchen you can use. If you're a real foodie, having to suffer a motorway muffin every morning for breakfast isn't ideal, however your motorhome is the perfect place to have a foodie break.
In the UK there are a number of great markets which you can visit and source your own food and there are also some great vineyards in the South East. If you're feeling brave, you can even try your hand at fishing or foraging – just make sure you're with a trained guide if you plan on eating wild fungi!
Have a Real Roadtrip
In the UK we often use the term 'road trip' to make a few boring hours on the M5 sound a little bit more exciting, however it doesn't have to be this way! If you're feeling brave why not head out on the roads, don't book a thing and just see where you end up?
A road trip is also a great opportunity to try your hand at wild camping, providing you're able to find the right spot. If you are going to really get out there and explore it's worth taking a laptop: it can be a godsend if things get tough!
Indulge in Your Passion
If you're a lover of art, theatre, music or anything else creative, a motorhome trip is a great way to get to grips with your passion. Rather than planning your holiday around the same old campsite, why not check out a few gigs or shows you'd really like to see and try to work them into your trip?
This can work particularly well if you're thinking of hitting a festival. Edinburgh's summer arts festival is one of the best in the world and it's especially easy for campervan and motorhome owners to make the most of what's available.
Use Your Campervan to Work
If you're thinking of taking a holiday for a few months or more you can actually make great use of your motorhome to work. Seasonal summer jobs are usually available in the agricultural sector and they can make a great difference to your holiday.
Many seasonal jobs only require you to work three or four hours a day and will often include some kind of board. This means that they are a great way to try something different, earn a bit of cash and, most importantly, help you prolong your motorhome holiday.
Motorhome trips don't just have to be centred around campsites or areas that you usually visit. In fact, with a bit of careful planning you can use your motorhome to enjoy something you really love. The world truly is your oyster when you have a motorhome!
While some of these trips might cost you a little more than your typical motorhome holiday, if you get a great deal on your motorhome insurance you could end up saving a considerable amount of money. You could use these savings for a deposit on your next big motorhome holiday or just to enjoy your motorhome holiday that little bit more this summer!
Photo by David Anstiss / CC BY-SA 2.0