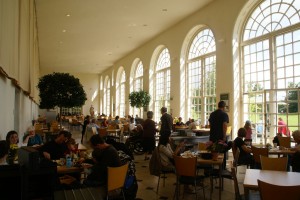 There's a certain romance attached to running your own restaurant: cooking the food you love in your own kitchen, designing the bar and seating and, most of all, taking your income and livelihood into your own hands. Alongside this, the restaurant market in the UK seems to have quite a lot of life in it and many new restaurants are starting to emerge.
Of course, the reality of starting your own business isn't easy, and most restaurateurs will tell you that you need to be prepared to work extremely hard, put in the hours and still have a bit of luck. But, if you're still tempted, how do you go about establishing your own restaurant?
Visualise Your Ideas
There are a lot of places to eat in the UK, and unlike in France or Spain many of the chain offerings here are extremely good. You can probably name four or five top-notch Italian chains which rival your local pizzeria for price and quality. To make your restaurant a success, you need to stand out. That starts from your concept.
Of course, the central selling point of any restaurant must be the food, and you need to work hard preparing and tasting the dishes that are going to be the star of the show. Once you've got a great menu, you can then start thinking about branding it and making sure it's first on your customers' lists when they want to eat out.
Doing the Finances
Before you commit to a property you need to make sure your idea will work on paper. Forecasts aren't just imaginary; they can help you get to know your numbers and give you an idea of the sort of scale you'll be running on. Factor in all your costs, from napkins to restaurant insurance, and get comfortable with the numbers.
The most important sums you need to be doing are breakeven analyses, which show you where you'll start to make money, as well as profit, loss and a balance sheet. Even if you're not an accountant, these are essential pieces of information for all restaurateurs!
Finding a Property
Many restaurants suffer just because they're not in the right location, and it's definitely tougher for restaurants that are out of town or a little way away from the main high streets. If your property doesn't have a lot of footfall, you'll certainly need to make sure it's a destination where people want to eat.
The important thing to remember is that there's no rush to find yourself a property: you will end up paying rent from day one, and if you don't have any food or customers this is an unnecessary expense. It's also far better to wait until your perfect property comes up; settling for something enormously big or too small will dent your vision and your margins.
Living Out Your Concept
Once you've got your property the hard work really starts. You need to think firstly about the kitchen and seating areas before the décor. A professional kitchen will probably set you back around £10,000, so make sure you factor it in!
However, this doesn't mean you can forget about the little touches. Not only should you think about every candle, sauce bottle and pepper shaker, but you should plan how your service is actually going to take shape. Think practically and don't be afraid to practice – systems are the key to success!
Opening Night
So many restaurants don't make it to opening night as they simply run out of cash before they even get the chance to get any customers in. The truth is, if you've got a lease on a property and you've invested in making it your own, you need to get it open as soon as possible!
Everyone expects that a new restaurant will have some teething problems, so don't stress if things aren't right first time. Listen to your customers' feedback and be liberal with the freebees. Of course, you need people to come back!
Opening your own restaurant is an achievement in itself, but don't ever presume the work stops just because you've opened the doors. If you're not interested in waiting tables for the foreseeable future, you need to think about an exit strategy which might involve taking on a manager. However, if your restaurant is your your passion, there's no reason why you shouldn't love spending time there!
Photo by David Baron / CC BY-SA 2.0