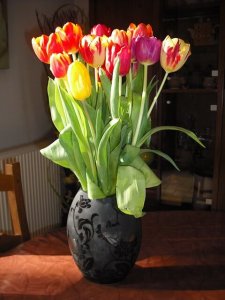 With the New Year just around the corner many people are planning on make changes to their lives including selling their homes. If you are a landlord who is struggling to find a tenant for a property, or have had to update your landlord insurance to include unoccupied property insurance, you may want to consider selling your property too. If this is the case the first thing you need to think about is how to entice people to purchase your property through staging.
Viewings over Christmas are not advisable as it tends to be a busy time for landlords and house prices often fall. However, once things return to normal in the New Year there are a few things you can do to make sure you attract as many potential buyers as possible.
Heating On
The first thing to do is make sure that the property is warm before the viewing: a cold home is not an inviting home. As you aren't living in the property yourself you can always set a timer to come on before the viewers arrive, this way the house will be warm and noisy boilers won't kick in mid-viewing.
Clear Paths
As the British weather is very unpredictable who knows if we will have snow this year, but if we do it is advisable to clear the path. Having to trawl through snow to get to property isn't very inviting, and there is also the danger your potential viewers could fall over in the driveway!
Lighting
Light creates a lot of ambiance so it is important you use it to create the right feel. Make sure all the lights are switched on in the property so it is as bright as it can be. If you have a viewer coming late afternoon after the sun has set you can create a cosier feel by switching the overhead lights off and switching on the lamps instead. One tip is not to shut any curtains as this makes the room look more closed in. Again, putting lights on a timer is also a good idea. If there is a "For Sale" sign outside your property and the lights are on it looks more appealing than a property that is dark and gloomy.
Garden
When it comes to gardens in winter most of them can look a bit drab, and if this is the case with yours you should consider giving it a tidy up and putting some colour back into it. A good looking garden gives the impression of a well looked after house. Many buyers don't want to tackle an overgrown garden after moving in so if it is in reasonable condition it is a good selling point.
Dress a Room
A well dressed room looks inviting and homely. Having cushions and throws on sofas makes them look comfy and a laid table in the dining room looks homely. Fresh flowers, magazines and newspapers are also great for dressing rooms.
Spring Clean
Of course it goes without saying that a clean house is more likely to sell than a house that is a little dusty. It may be surprising but many people look in the fridge so it important that it is empty and clean. It is also important not to overdo it on the scents in your home. If it smells naturally clean and fresh rather than bombarded with perfumes this also makes your home more appealing. A great smell is the smell of baking, so before those who are coming to view your property arrive why not bake some cookies or bread?
As well as lighting another great way of creating ambiance is using music to create atmosphere around the home. Relaxing but modern music is the key, this way viewers will feel relaxed and take in all your hard work rather than feel the need to rush through the house because it is too quiet.
Overall, a well presented house is likely to attract more viewers which hopefully means you will make more money than you expected and sell your property in next to no time!