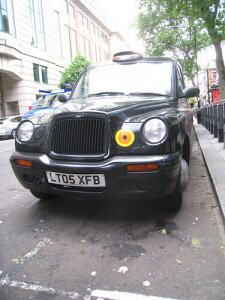 Over the past few years public transport across the UK has been evolving in order to provide a better, more comfortable, service to passengers. For example, a number of trains throughout the country will soon have Wi-Fi access allowing passengers to access the internet during their journeys, while coaches are now providing beds and televisions.
Taxis have also seen new technology installed in their vehicles, especially in large cities such as London and Manchester. Now, passengers have the ability to pay their fare by card, with some machines even providing touch payment options. There are also a number of taxis with televisions installed, meaning that customers can travel in style and advertisers have a new way to promote their products. But how are taxis adapting for the future?
Going Mobile
Recently, there have been various Apps created to help passengers find taxis quickly and easily, and during the busy Christmas period these Apps can make a large amount of money. At the moment, one of the most popular Apps used for booking black cabs is Hailo, however recent reports have shown that another app called Kabbee will soon be taking them on. Kabbee recently received a four million pound investment to rival Hailo, which has been criticised for charging a minimum of fifteen pounds for a night fare.
Kabbee's chief executive Justin Peters said: "The London minicab sector has been cannibalising the black taxi market for 20 years because metered fares have been going up, even as the quality difference [has] been disappearing. Satnav systems mean that The Knowledge is no longer essential, and because black taxis congregate in Central London, minicabs now offer better coverage too. Londoners have a right to demand the best transport service so it looks like London's iconic black taxis will have some difficult decisions to make."
At the moment Kabbee does not charge a minimum fare for passengers, which could be one of the reasons that so many companies chose to invest in their technology. Customers can use the App to connect to up to five thousand minicab drivers across the London area, and it is expected for the popularity of the App to rise over the upcoming months.
Going Off-Road
It's not just the nation's capital that will soon be experiencing a change to the way they use taxi services, as Scotland is currently planning on introducing 'water taxis' across the river Tay. The plan here is to link Perth and Dundee via the waterway, allowing passengers to see the sights and commute between the two cities quickly and easily. Tay and Earn Trust chairman David Clarke, said: "[The Tay] is the forgotten jewel in the crown. It's a fantastic asset for Perth that could be used more for tourism.
"The crucial thing about the river is the lack of pontoons and landing stages at key locations to improve access. The V&A presents a unique opportunity, while Perth has been boosted with city status. We want to attract more visitors to the area and create more jobs. The Tay was very busy 80-100 years ago, with ferries and 200 fishing boats, but not now." There has already been a huge amount of support for the water taxi plans, with the Inner Tay Masterplan report stating: "river taxis on the Tay should be re-introduced, particularly if there was adequate parking and a bus shuttle service".
"A network of landing stages could be developed on the inner Tay, to link communities along the river, improve leisure facilities and river access into Perth. The landing stages could provide access for passenger boats, canoeists and other leisure craft users. This could also support the development of a river taxi service to enhance river access and increase visitor numbers."
Preparing for the Future
With companies and local governments investing so heavily in taxis across the UK, it is important that drivers prepare themselves for the change in technology. Installing new features to your taxi is a great way to stay ahead of the competition, however it does also increase the risk of theft and potentially your taxi insurance premiums. Luckily, there are also a number of new safety features available for taxis, which not only protect the vehicle itself but also the driver during thier journeys.