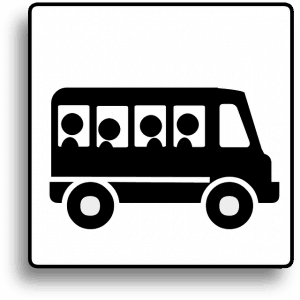 With all the kids back at school, there are many things that need to be considered by the schools to ensure that they are not only great places to learn in but also are safe. There are many accidents than can happen on a school property due to the amount of people that are in the same area at the same time. Not only is making sure the school grounds are safe it is also important to ensure that vehicles that are used by the school such as minibuses are also safe.
The safety of the vehicle is maintained through regular services and MOT's which helps bring peace of mind to those who are driving the vehicles. It is also important to ensure that the vehicles are covered with a minibus insurance policy just in case it becomes damaged.
With schools having to cut budgets right, left and centre paying out for minibus insurance is probably not the most enjoyable expense each month/year which is why we have put together a few tips on reducing your insurance policy.
Shop Around
The first way is to visit QuoteSearcher's quote page. Once you have filled out your details, we then pass them on to respected insurance brokers who will be able to offer you very competitive prices. Rather than having to fill in the form a number of times on different sites, we do the hard work for you and choose the price that is best suited to you.
Volunatry Excess
There are other ways in which you can reduce your minibus insurance policy including ensuring that you are using your no claims bonus and adjusting the voluntary excess you are prepared to pay this out in the event of a claim. By increasing the amount of excess you are willing to pay this will decrease your premium. But do remember the amount you state in your voluntary excess will be the amount that you have to pay in the event of a claim.
Safety
Another way of reducing your minibus insurance is to make the vehicle safer. This can be done by parking it in a garage on site to make it more difficult to be stolen. You could also add additional locks and fit an alarm system. If you are going to add these extra's it is also a good idea to add a tracker. This way in the event of the minibus being stolen the vehicle may be traceable which will increase the chances of the minibus being found again.
No Claims
As previously mentioned, making sure that the no claims discount is applied to your quote will help reduce the cost. If this is the first time you are buying a policy for the vehicle and there is going to be one main driver then you can try and see if their own personal no claims discount can be mirrored and applied to the policy.
If there is going to be one main driver, in schools it is usually a P.E teacher as they transport teams to different matches throughout the year, make sure they do not hold any points on their personal license. Having points indicates that the driver is not careful and this is not a characteristic that insurance brokers like. As a result of this the quote will be higher than for a person who doesn't hold any points.
It can be tempting to pay for an insurance policy monthly to help with cash flow, although this is actually a more expensive way of paying the policy. If it is possible, pay for the insurance annually to cut down on spending the pennies.
Livery
A weird and wonderful way of reducing your quote is to have the details of the school or business painted on the side of the van. According to statistics, vehicles that are marked with the organisations name are less likely to be stolen as they are more easily identifiable than an unmarked vehicle. Also by putting signs such as "report this driver for bad driving" in the back of the vehicle encourages safer driving which makes them a lower risk for insurance brokers.
It has been known in the past for the odd white lie to be told here and there in order to get a cheaper insurance policy not just on minibuses. In the beginning this may reduce your costs but in the event of a claim then this could mean that your policy is not actually valid and you end up having to pay for the full claim yourself.
Overall, ensure that you are honest about your policy, make sure that you have taken as many safety measures as possible and you are clever about who you put on your policy to ensure you receive the lowest quote possible.