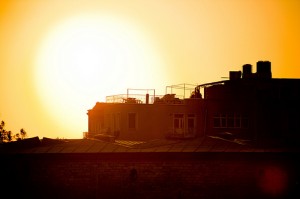 As we draw closer to our longest day and summer is near (at least on paper), summer maintenance comes into play. Though maintenance will need to take place all year round, what a landlord needs to do changes very much with the seasons, so here are a few things to look out for in the milder months…
Check your boiler
Whilst it may not seem the most important thing to check at the time where tenants are least likely to be using it, the boiler being out of action for a while can actually be when issues occur. Landlord insurance will often cover you for boiler emergencies, but keeping it maintained is a great way to avoid any nasty surprises, and can often take away stress in the winter months. You will need to give your tenant 24 hours' notice before entering the property, so make sure you are organised and keep them in the know. Also, make sure your tenant knows the basics of how to use it, because problems can be aggravating or even come about entirely when tenants do not understand the importance of correct usage.
Gutters
Again, though hopefully the rain over the summer will be kept to a minimum, the summer is a good time to do any necessary maintenance to both gutters and drains, as when gutters are not overflowing with torrential rain it can be easier to assess any damage! Take the opportunity to make sure gutters are not warped or cracked from previous downpours. Broken guttering risks a lot more than just wet walls and poor drainage, because prolonged water on exterior walls can actually cause damp inside the house – something which is incredibly difficult to get rid of and an unwelcome expense for landlords.
Windows
Windows are likely to be open for the summer breeze, and this is when accidents can occur. Landlords have a legal obligation to limit windows which are large enough for a person to fall out of, so check that window limiters are in good working order and have not been breached, either accidentally or purposefully, by the tenants.
With all maintenance, remember you have an obligation not to unnecessarily disturb tenants, so make sure you give enough notice and carry out the maintenance in a timely and appropriate fashion.