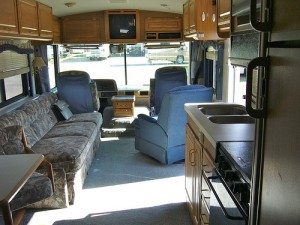 Just as you wouldn't buy anything without knowing it is in good working order, you shouldn't buy a motorhome on spec and recommendation alone. So if you're looking for a new motorhome, here are a few things to look out for on your test drive…
Put it through its paces
Motorhomes travel all over, and because of this your test drive should reflect more than just town or city driving on straight roads. If you can, try a slightly uneven surface to check everything is secure, there are no ominous noises and the vehicle is generally comfortable. Do the kind of driving that reflects that way in which you use or intend to use your motorhome, and have different members of the family inspect the motorhome – what a child notices will be completely different to what you may notice, so don't underestimate the benefit of a fresh pair of eyes.
Living quality
While you or someone else will be driving the vehicle, there is also the fact that you will be living in the motorhome, if only for a brief period of time. Most people don't live in their motorhomes for prolonged periods, but in order for it to be a comfortable holiday you need to know it is liveable. Test drive the motorhome with all the family and see how passengers feel both in the front and in the back – are the chairs comfortable even when on the move? Check for things which you may not think about, such as unwanted drafts. Remember that your motorhome will serve a number of roles, and make sure it can live up to being both a vehicle and a home.
Know what you want
When you go to test drive a potential vehicle, have a list of things that you want from the motorhome and some things that would put you off. It can be easy to get caught up with the positives at the time and forget that you have things which you find annoying over long periods. It can also be useful to get a motorhome insurance quote on potential vehicles, as large variants in quotes could also be a useful way to differentiate between motorhomes. Don't be afraid to think about it and take some time to compare at home, as often it may take a while to properly contemplate the pros and cons of a vehicle.