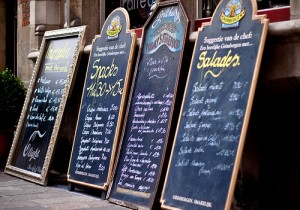 Opening a restaurant can be hard, but even once a restaurant is off the ground marketing is important. Here are a few easy ways to keep customers returning to your restaurant…
Set yourself apart
Italian restaurants may be big business, but on a street with ten other restaurants serving very similar food, the likelihood of customers choosing you over the competition is slim. Find a niche and stick to it – it may be that you can offer speciality desserts, an unrivalled cocktail menu or a selection of unusual dishes, but don't try to be the same as everyone else. Moreover, make sure the name of your restaurant conveys this and is sufficiently different to the competitions' so that you are memorable in your own right. Having that one thing that customers remember you for will give you the edge and keep them coming back for more!
Get your brand out there
Make sure you are getting your brand out there, as even an established restaurant needs to be at the forefront of peoples' minds to have a constant flow of customers. Advertising can be a great way to do this, but so can things such as advertorials – where magazines and other publications write about brands in a less sales-like manner. Organising special event nights and charity events can also be great ways to get people talking about your brand.
Organise yourself
Organising your restaurant comes down to a lot more than ordering produce and having your restaurant insurance in order, as it also includes thinking of ways to help make your business more profitable. For example, there is no point marketing dishes which simply do not pay, so keep a note of what ingredients go into the dish, how much they cost and the total you are making: if it doesn't pay, don't serve it. Moreover, in the age of the internet, customers love mailing lists, especially if this means they might get occasional incentives in the form of money-off vouchers. Marketing isn't just for new customers, but also great for keeping older customers interested and coming back. A little bit of feedback via feedback cards or an online survey can not only be a great way to get customers to engage with your brand and reap the benefits, but also help you to see where you can improve.