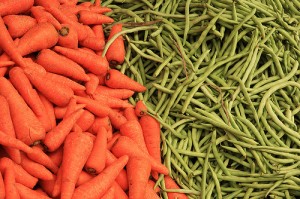 In some of our previous posts we have discussed ways to come up with ideas for you restaurant's menu as well as how to source food and test out each of your dishes. However, when creating a menu there are some dishes that are often looked over – the vegetarian ones! So if you want to really make your menu something special then you need to put as much effort into these dishes into all your others, and here we show you how:
Coming up with Vegetarian dishes
It is an unfortunate that when it comes to creating vegetarian dishes many restaurants seem to just settle for pasta with a sauce and leave it at that. However, there is so much more you can do, and by getting a bit creative your menu can really have an edge over the competitions! For example, don't just limit your dishes to those that are typically English, think about different countries and the vegetarian dishes they create. Indian food has a wide range of vegetarian options including those that use lentils, peas and beans along with a whole range of spices, so why not think of doing something tasty, authentic and original!
Mind your Ingredients
Vegetarians are naturally quite particular when it comes to making sure that there is no meat in their food, and if you are not a vegetarian yourself you will probably not be fully aware of what foods contain meat products. For example, gelatine is made out of animal bones, and so cannot be added to any dish that you claim is vegetarian – otherwise you could find yourself in a lot of trouble! Your restaurant insurance will probably contain public liability insurance which can help you if you make an honest mistake, however you will probably lose customers and could even get a bad reputation for vegetarian cuisine!
Think about Vegans
As vegans have a very particular range of foods that they can and can't eat, many tend to struggle to find a restaurant that will cater for them. This means that there is a huge gap in the restaurant market that you can take advantage of by starting to offer a vegan menu. However, you need to be extremely careful when it comes to preparing vegan food, especially as some may not want to eat in a restaurant that prepares meat in the same kitchen. So if you are really brave why not set up your own vegan-only café or restaurant!
Vegetarian food can be delicious, healthy and fun, so make sure you keep this in mind when deciding vegetarian dishes for your restaurant. If you do it well you will probably find a lot more vegetarian customers coming your way in the future!