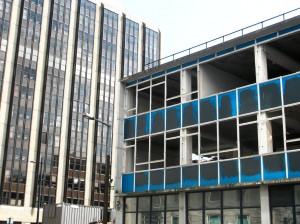 While the private rented sector is currently booming, not all landlords are benefitting from the increase in those looking for private rented property. In the past few years high streets across the UK have been struggling, meaning that landlords that own commercial properties are now finding that they are being left void for a number of months. Furthermore, as the economy is so delicate right now fewer businesses are looking to invest in new office space, meaning that large buildings are being left unused. So in these difficult times what should you do? Here we look at some options:
Consider Short-Term Leases
If you own a void commercial property on a high street then you may not be too inclined to let it out, especially if your previous tenants went into administration and therefore defaulted on their rent payments. This is the case for many commercial property landlords right now, however local councils are urging them to change their minds in order to rejuvenate high streets and boost the UK's economy. The best thing to do in this situation is to think about letting your property on a short-term lease to a 'pop-up' shop or restaurant. These types of business by their very nature are only around for a month or two, and so you will be guaranteed an income for a period of time without having to deal with the risk of the company going bust. A win-win for all!
Converting your Property
The government has recently said that they are going to relax planning laws across the UK so that unoccupied office space can be converted into residential properties. As there is so much demand for private rented accommodation using this space could be a great way to help landlords make money and members of the public to find a home. However, there have been concerns by some that the quality of these properties will not be the same as regular private rented accommodations, and so if you do decide to invest in a converted property you will need to make sure it is of a good quality.
Protecting your Property
During a void period your commercial property will eventually end up losing you money as you will have to pay for the mortgage and council tax yet receive no income. To make matters worse, unoccupied properties are often extremely vulnerable to vandalism and crime, which can end up costing you a huge amount in maintenance work if you do decide to put it back on the market. Therefore, during void periods you should make sure your property is protected with unoccupied property insurance, that way you won't have to pay if you do decide to put the property back on the market!