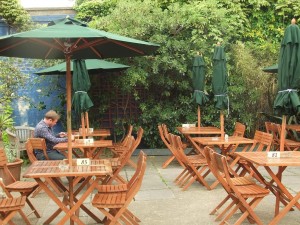 Now that the weather is starting to improve restaurant owners are finding that more and more people are now choosing to eat at places that offer al fresco dining so that they can enjoy their meal and not miss out on the sunshine! But what do you need to consider if you want to set up an outside dining area? Here we look at some of the most important things you need to know before ordering your new furniture!
Do you have the room?
Those that own restaurants based in town centres may find that it can be hard to offer outdoor seating, especially if they are located on a busy high street. However, even the smallest amount of room can be used as long as you think of something creative! If you only have a tiny outdoors area out the back then why not convert it into a sort of "outdoor lounge" where customers can sit and relax but may not be able to eat food. If you have the space then make sure you plan how you are going to use it wisely – there is no point in cramming it with too many tables as it won't look appealing to customers!
Designing your outdoor area
If you want to make the most out of your outdoor area you need to make sure you plan ahead and think of how to make it even better than those of your competitors! Little things such as a water feature, nice furniture, parasols and even fairy lights can really give your outdoor dining area that competitive edge. You also need to make sure that you leave room for all your waiting staff to manoeuvre around outside, and that you can deliver the food to the tables quickly and easily so that it doesn't go cold!
Safety Issues
During the planning stage for your outdoor dining area you need to make sure that your restaurant licence and your restaurant insurance covers you serving food outside, and that you protect yourself against any dangers. For example, if people are constantly moving in and out of your premises there is more chance of them tripping up, meaning that you need to make sure you have good public liability protection. Furthermore, if you are planning on hosting a BBQ you need to be extremely careful as if something catches alight the fire could spread extremely quickly, especially outside!
Offering an outdoor dining area is a great way to entice customers to visit your premises during the summer months, just make sure you plan ahead first and that everything complies with health and safety!