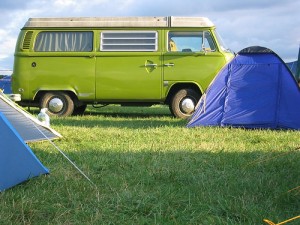 The festival season is just a few weeks away, and already people have got their tickets and are looking forward to a few days away with their motorhome. However, going to a festival is not like going on a regular motorhome holiday, and so there are a number of things you need to think about before you head off. So here we give you some tips so that you can have a great time at your next festival!
Make sure you have a Pitch
Most festivals only have a certain amount of space for motorhomes and campervans, and so it is important that you make sure you book your pitch early. When buying tickets you should double check to see if certain ones are for motorhome camping and others for regular camping, otherwise you could find yourself turning up with nowhere to park! If you have already booked your tickets or the festival you are going to doesn't allow motorhomes then why not look online to see if there is a campsite nearby that you can park your motorhome in? You'll probably be there with loads of other people from the festival so you'll be sure to meet some likeminded people!
Pack Carefully
Festivals usually have strict rules when it comes to what you can and can't bring into the site, and so you need to be extremely careful when you are packing. The first thing you should do is check the website for the festival to which you are going to which will usually have a list of all contraband items, that way you will know for certain you aren't bringing in anything that will get confiscated! When you are packing you should also make sure that you bring enough food for the time you are there, or make sure you have enough money on you – don't forget food at festivals is extremely expensive!
Keep your Motorhome Safe
Unfortunately, there is a large amount of crime at most festivals, and therefore you need to make sure you keep both your motorhome and your belongings safe at all times. Don't bring expensive appliances, jewellery or your laptop with you as these will be targeted by thieves, and make sure that nothing is visible in your motorhome when you leave it unattended. Before you leave you should also double check your motorhome insurance policy so that you know you are covered for various types of damage and have adequate content cover.
Going to a festival in a motorhome is a great experience, and spending three days listening to music and making new friends should be fun, so make sure you plan before you go so you can relax when you get there!