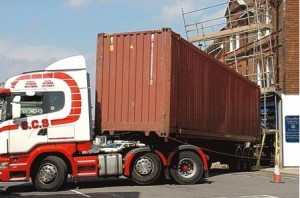 A SEVENOAKS jeweller says he is stunned that no one was injured after a lorry swerved into scaffolding outside his store.
Gary Ware of Francis Jones says dazed shoppers wandered under the unstable structure straight after the collision which happened Thursday, last week.
Less than 20 minutes earlier, a workman had been up on the scaffolding fixing his roof.
"If he'd been up there when the lorry hit, he would have been killed," said Mr Ware. "It's a shock, not so much when you think what did happen but when you stop to think about what could have happened."
An investigation into the cause of the incident is underway, but it's to say witnesses believe the lorry reversed into the scaffolding while trying to perform a tight turn from the High Street
into London Road.
The scaffolding spent last Thursday afternoon on the edge of collapsing as emergency services battled to try and make the area safe. Although there were no injuries, hopefully the lorry driver has a valid lorry insurance policy to cover any damage caused from the accident.
Sevenoaks town centre was brought to a standstill while the recovery operation – which lasted nearly nine hours – was underway.
Mr Ware said: "They finished dismantling the scaffolding at about 9pm.
"They had to be so careful that it didn't fall down. It was hanging out over the road.
"We were in the shop when the incident happened at around lunchtime but we didn't see it, we heard a loud noise and went straight out – we were worried that someone may have fallen off the scaffolding.
"Nobody could quite believe it was happening; some people were still walking under it.
"Then the police arrived and the scale of it started to sink in.
"The scaffold was up there because we were having roofing and refurbishment work done. It was due to come down on Friday, anyway.
"So we ended up dismantling it a day early.
"It was a horrible day. But then it's like being stuck in traffic on the motorway after there's been an accident – it's very unpleasant having to sit there, but it's worse for the person who's been involved in the crash."
Police advised Mr Ware and his wife Roberta to shut down the shop while Kent Fire and Rescue Service investigate the scene.
Emergency teams were wary of moving the lorry, fearing it could make matters worse.
The Wares couple spent most of their Thursday afternoon at the back of the jewellers, away from the front windows in case the scaffolding came crashing down.
Mrs Ware said: "It's a problem at this end of the high street.
"We've had the scaffolding clipped before and over the years we've lost three or four awnings from the front of the shop because they've been hit by Lorries trying to do a U-turn into London Road.
"What's needed is a sign warning Lorries not to do it and advising them of the alternative routes they could take."