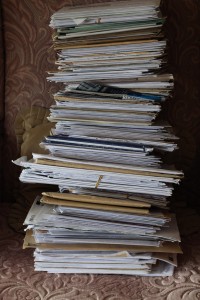 It has been an extremely long winter but finally we have some good news – spring is finally here! The weather is starting to get warmer, people are becoming cheerier, and going outside is no longer a burden but a joy! Spring is also a great time for fresh starts, so here are some of our tips to give your entire property portfolio a good spring clean and get the best out of your business!
Out with the old…
As everyone knows, the first thing to do when you are spring cleaning is to throw all your old junk away. For landlords this could start with going through your paperwork and making sure there aren't any receipts for three year old toasters or replacement light bulbs! April is also a great time to go through your financial paperwork as it is the beginning of the new tax year, however make sure you know what you are throwing away! You should also invest in a shredder so that all your confidential documents are disposed of properly and you don't have to worry about bank account numbers or other personal details being found in your rubbish!
… and in with the new!
After you have worked so hard clearing away all your junk, it's time to invest in some new items that could really improve your business. This is a great time to check your landlord insurance policy to make sure you are getting the best deal, and you could also give your bank manager a quick visit to have a chat about all your properties – hopefully the warm weather will have him in a better mood too! After all this why not treat yourself and invest in that new printer you have been after, or even just something nice for your own property! After spending so long looking after all your tenants' homes it's only fair for you to treat yours!
Involve your Tenants
A big part of spring cleaning your property portfolio is making sure your houses are all up to scratch, so why not use this time to arrange an inspection for each of your properties? That way you can find out and organise what maintenance and repairs that need to be done, and even give some of your tenants a nudge if you think they could do with getting the hoover and cleaning products out!
There is no better feeling than after you have spring cleaned as everything is organised, fresh and ready for whatever comes next. So make sure you spring clean you property portfolio and get the most out of your business in the months ahead!