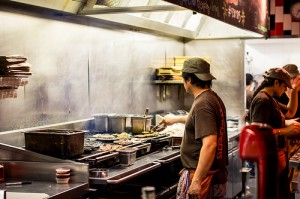 All employees are responsible for providing safe and healthy workplace conditions as well as the right systems and methods for safe activities.
This is particularly crucial in a restaurant where the risk of serious injury can be quite high and, depending on the size and location of your establishment, hundreds of customers may come through the door each day.
Accident prevention procedures should be undertaken in all phases of your restaurant with an accident prevention policy in place. Employees at all levels should follow safe work habits, report unsafe conditions and assist fellow employees who need help.
It is imperative any restaurant owner considers restaurant insurance too, which will protect you if certain unfortunate incidents take place that are either unforeseen or out of your control.
Additional areas that will improve restaurant health and safety include:
Staff Training
Whilst having pre-arranged policies in place is fundamental, any restaurant or kitchen layout is likely to change over time so it's crucial to hold regular safety meetings, with employees provided with a safety orientation when a previously unrecognised hazard has been noted.
Regular Inspections
A restaurant manager should be in-charge of conducting regular safety inspections as part of any accident investigation, in the event of any hazardous substances being introduced to the building or when a hazard has been reported.
Eliminate any hazards
Whilst safety inspections and staff reporting can highlight areas that need addressing, once any hazards have been established, a restaurant should provide a means to remove the threat or minimize the chances of any accident. Repairing or removing faulty equipment, retraining employees, modifying the layout and apply safer work habits can all assist with this.
Injuries to staff or guests
If the worst case scenario should become a reality, a restaurant owner and his staff should know how to deal with any injuries to guests or fellow employees. In any medical emergency an ambulance should be called immediately, and employees should never attempt to move the injured party.
Be sure to consult your employee handbook for the procedures to deal with any guest injury.
As a restaurant owner it's crucial to protect yourself against a relatively large number of risks, whether you're aware of them or not, with a good insurance policy. But just by following a few simple procedures and rules you can end up greatly reducing the risk of injury or illness to both your employees and customers.