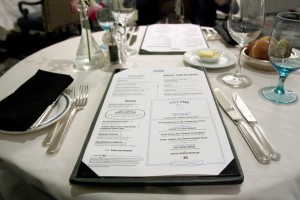 Last week we discussed how going to food shows can help you come up with new ideas for recipes as well as enable you to network with other members of the restaurant industry. Today we will look at how you can take all the ideas for new recipes and put them all together to create a menu that will not only be enticing for your customers but also something you can be proud of! Here are some of our top tips:
Budgeting
The first thing you need to consider is what ingredients your restaurant can realistically afford, and this usually depends on how much you think your clientele will be happy to pay for each dish! If you think that you could charge £20 for each customer's main course then you can start thinking about making dishes with ingredients such as lobster and caviar. However, overly expensive dishes could drive your customers away, so sometimes it's best to stick with more simple ingredients and give them an unexpected twist! You could also invest in fresh local produce that will taste great and help fund other businesses in your community!
Think about Flavours
One of the most important things to consider when deciding your menu is to think about what flavours go together as a whole. For instance, it's generally not a great idea to have something overly spicy or flavoursome for a starter and then have it followed by a creamy pasta dish as the flavours may not go well together. The best thing to do is think about what you would order in a restaurant and go from there. Don't forget the best way to know about flavours is to try the food, so why not get your staff together and have a tasting session to see what everyone likes the most?
The Chef
It's all well and good picking a dish that you like and will impress your customers, however before you even think about adding it to your menu you need to talk to the person responsible for cooking it – the chef! Not only do you need to make sure that he has the skill to create each dish you want to put on the menu, but also that he has the realistic amount of time to do so each and every night. Furthermore, you will need to make sure he has all the kitchen utensils he needs so he can create the dish quickly and safely. The last thing you need is a kitchen disaster and having to claim off your restaurant insurance!
Choosing a menu is not always easy, but with a little time and effort you will be able to create one that will be tasty, exciting, and will hopefully lead to your customers coming back for more!