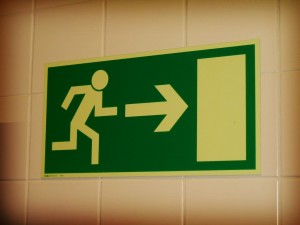 There have been a number of articles in the news recently concerning motorhome owners that have found themselves in dangerous situations, which is why we feel that it is important all motorhome owners have a plan of action before they head off if worse comes to worse. Here we look at some of the dangers you could encounter when it your motorhome and what you can do to combat them:
Fire
One of the biggest dangers to motorhome owners is fire, especially as in a motorhome it can spread quickly and destroy not only your vehicle but also your personal belongings. If you are in a caravan park then make sure you take precautions when cooking: never leave food unattended, make sure you have a fire alarm fitted, and never barbeque too close to your motorhome. If you are on the road and you notice smoke or fire coming from your motorhome then you need to pull over straight away, get as far away from the vehicle as possible and don't attempt to collect your belongings. Call 999 as soon as you are safe and don't go near the vehicle until you are told to do so.
Carbon Monoxide
Carbon monoxide can be extremely dangerous for motorhome owners; especially as in confined spaces it can damage your health extremely quickly. Furthermore, carbon monoxide poisoning can be caused by the gas appliances inside your motorhome and also from fumes coming from your exhaust. In order to stay safe make sure that you have a carbon monoxide alarm fitted in your motorhome and check it at least once a month. You should also make sure that if there is ever any damage to your exhaust that you get it fixed straight away – your motorhome insurance will generally cover the costs and keep you safe.
Theft
Even though nearly all motorhomes come with alarms and locks as standard, this is sometimes not enough to deter thieves. Thieves are also generally opportunists, so even leaving your motorhome unlocked for a short period of time is dangerous. Make sure that your motorhome is always locked if you are not in it, and never leave any personal possessions visible as thieves could smash the windows, leaving you not only losing your belongings but also having to pay to get your vehicle repaired. If you ever are the victim of theft make sure you call the police straight away, and create a list of everything that was taken from your motorhome.
Most motorhome owners go on trips so that they can relax and enjoy themselves, so taking a few precautions will ensure that you have a great time. Remember, if you are ever concerned with the safety of your motorhome you should take it to a mechanic before heading on the road – better to be safe than sorry!