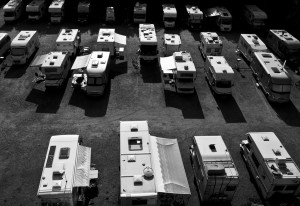 Part of the excitement of going on a motorhome holiday is the sense of adventure and the unknown. The fact that you can change your route on a whim is one of the main reasons many people invest in a motorhome in the first place. However, at some point or another you will need to park up, re-stock your vehicle or even do some maintenance, and caravan parks are the best place for this. So how do
you pick the right one?
Who are you travelling with?
Many caravan parks have strict rules when it comes to who they allow to stay in their sites. For instance, some will not allow you to bring pets unless they are guide dogs, whilst others may not allow children under a certain age. Before you head off make sure you check all the caravan park rules, both those written in black and white and unspoken – don't forget even though some caravan parks allow children they may not be popular amongst their regular clientele!
What facilities do you need?
There is nothing worse than paying for a pitch at a caravan park and then finding that they don't have everything you need, as not only is it an inconvenience but also a waste of money you could have spent at a better site. Most caravan parks these days list their facilities online, however if you have special requirements then it is always a good idea to call ahead. There are also online communities you can join and discuss the park's facilities with previous visitors just to double check that the website isn't promising more than it provides!
How much do you want to spend?
Cost is one of the main things motorhome owners think about when picking what caravan park to visit, however you need to make sure that the cheapest option is really the right one for you. Saving money is one thing, but making sure you are in a safe and well equipped site is even more important. Remember, if something happens to your motorhome whilst at a site you can always call your motorhome insurance, but the inconvenience could ruin the rest of your trip!
Picking a caravan park is easy as long as you do the research and make sure you are getting what you've paid for, and once you've found one you love we're sure you'll go there again and again!