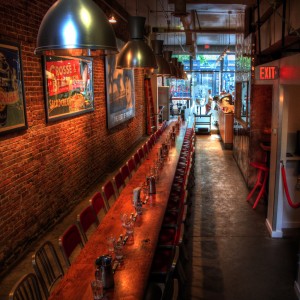 When going to a restaurant your customers are not just looking for good food, they want a whole dining experience! Therefore how you decorate your restaurant can make a huge difference when it comes to customer satisfaction. Whilst it may sometimes be expensive to decorate your restaurant, the long-term benefits can be well worth the initial spend. So how do you make your restaurant look its best?
Think about Themes
The first thing you need to do is think about what type of restaurant you own and what market you are trying to appeal to. If you run a small, family owned establishment then putting up a chandelier could make your customers feel uncomfortable and out of place, so think about the whole theme of your restaurant before you make any decisions. Think about where you are situated, who your main competition is, and why customers choose to go there instead of you. This could give you invaluable insight into what changes would be the most profitable!
Add something Original
After you have chosen a theme for your restaurant you need to think of ways to add something that will make your establishment stand out from all the others. If you are on a busy high street there may be dozens of restaurants for customers to choose from, so you want to give them a reason to pick yours! Maybe you could introduce a water feature, invest in some interesting artwork, or find some quirky furniture. The possibilities are truly endless; just make sure you cover all your new buys on your restaurant insurance policy!
Are you being Served?
So you've decorated your restaurant, and added some new and exciting features, but just before you decide to open to the public you need to make sure you have a meeting with all your staff. Depending on the theme you chose you want to have all your staff wearing a certain uniform so they fit in. If you've moved all the furnishings around you should do a quick run through to make sure nothing is getting in the way of serving your customers. Having a quick chat with everyone before the restaurant opens will make sure everything runs smoothly on the first night.
Sometimes it can be difficult when choosing the interior design for your restaurant, but if you ever get stuck you can always look online for some inspiration. And if you ever need to make a decision just think: would I like to eat in a restaurant like this?