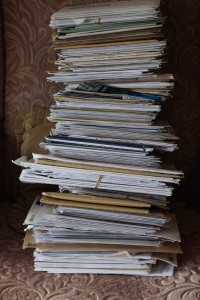 It may sound obvious, but keeping organised is of the utmost importance when you are a landlord. Juggling the maintenance and care of a number of properties is sometimes tricky, which means that it's highly likely that things could build up. Here we give some simple yet highly effective tips to keeping your property portfolio in order.
Times and Dates
The problem with having multiple properties in your portfolio is that they all were probably bought, registered, maintained and let out at different times, meaning that in order to keep everything up to date you need to have an in depth knowledge of the times and dates for each transaction. There are many ways you can do this quickly and easily, such as using a calendar which you update at the beginning of each year to remind you of when things such as landlord insurance need to be renewed. If you are a bit more techno savvy you could even set up a calendar on your computer or smart phone which will automatically remind you when things need to be done!
Debits and Credits
As a landlord you probably have a good idea of when money is due, however it's always beneficial to actually make a note every time you receive rent from your tenants, and every time that you have to use that money to pay for something. Keeping a log of all your credits and debits will not only give you a better idea of your finances, it may also help you spot ways that you are losing money! Furthermore, when it comes to filling out your self-assessment having a clear list of all your earnings will really come in handy and save you a large amount of time.
Invest in Storage
Keeping your paperwork organised is usually difficult if you don't have a specific place where you can store all your documents neatly and safely. It is wise to invest in a filing cabinet that includes a lock as a lot of your paperwork will have private and confidential information concerning not only you but your tenants as well. For this reason it's also necessary to invest in a good quality paper shredder so that you know any sensitive documents are disposed of properly – the last thing you need is to find someone has gained access to your accounts!
Looking after your paperwork is easy once you have a system in place, so why not go through yours today and ensure that your business is as organised as possible!