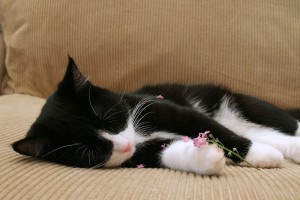 Some landlords are extremely strict when it comes to pets, and many refuse straight away for any tenants to keep pets in their properties. However, if you are planning on letting out to a family, or are planning on investing in a long-term tenancy then you may have to relax the rules a little – after all your tenants want to feel like the property is their home. So here is some advice if you do decide to allow pets in your properties:
Set out rules in the Tenancy Agreement
In order to avoid having to have an argument with your tenants you should set out the rules concerning pets in the Shorthold Tenancy Agreement. You may decide to only allow small pets such as hamsters or fish, or you may have a clause stating that your tenants must gain your written permission before buying a family pet. If it's in the Shorthold Tenancy Agreement and your tenant's break the rules you know you can rely on your landlord insurance to help you remove the pet (or the tenant!) from the property.
Don't put yourself Out
Whilst you may want to keep your tenants happy, it would be ridiculous for you to let them have an animal in the house which will cause you stress. For example, if you are allergic to cats or dogs then it probably isn't a wise idea to let a tenant keep one in the house, as you would end up allergic to your own property! Furthermore, make it clear to your tenants that they need to train their animals properly, the last thing you need is angry neighbours complaining about nuisance pets!
Agree on Maintenance Costs
Pets cause mess; there is nothing you can do about that. However, what you can do is arrange with your tenant extra maintenance costs for your property should they wish to keep a pet. Obviously this may not be the case if they just want to invest in a goldfish, but if you need new upholstery due to cat scratches, or a steam cleaner to remove animal smells then you need to make sure the tenant will pay. Also, make it clear to them that they could lose their deposit if they fail to co-operate!
Letting pets in your properties can sometimes be a risky decision, especially if it's a short-term tenancy, as it may put off future residents to know that an animal lived there. However if you do decide to allow pets in your houses make sure you explain the rules carefully to your tenants first.