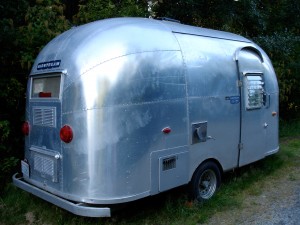 Let's face it – camping and caravanning holidays are just not for everyone. But what do you do when you are desperate to stay in a caravan yet a friend or family member just won't budge? Well, there is now a way for you to compromise! Hotels are starting to look at introducing caravans into their rooms (or on top of their buildings!) so that guests can have the fun of staying in a caravan whilst having all the little luxuries that you get from staying in a hotel, such as breakfast in bed. Here we look at two hotels that have changed the traditional camping holiday:
The Huttenpalast – Berlin, Germany
For those that like to camp on the continent, The Huttenpalast (or 'Hut Palace') offers a full campsite complete with caravans, trees, hanging lights and washing lines – all inside a hotel! The hotel provides a range of caravans, from static to touring, and even has communal 'outdoor' areas where you can meet fellow campers/guests of an evening. This hotel will be sure to entice even the most anti-camping family member, as they will get to experience the sense of fun and community that you get from a caravanning holiday without having to worry about the weather!
The Brooks Guesthouse – Bristol, England
For those wanting to go on holiday a little bit closer to home then why not visit The Brooks Guesthouse in Bristol? This bed and breakfast has recently gained planning permission to have four vintage Airstream caravans on their roof overlooking the St Nicholas marketplace. Furthermore, each caravan has been modified so that they are state of the art and completely luxurious, whilst the surrounding rooftop has been decorated by local Bristol artists and the garden has been designed by a local landscape gardener. The city of Bristol is known for its quirky sense of style, so why not join in and stay on a rooftop caravan for your next holiday?
Many people have misconceptions about caravan holidays, but hopefully these new hotels will entice even the most reluctant family members. And even the most dedicated caravanning enthusiast enjoys staying in the lap of luxury every now and again – and at least it saves money on petrol and caravan insurance! But who knows, maybe visiting one of these hotels could be the start of the whole family enjoying caravanning and going on more holidays in the future.