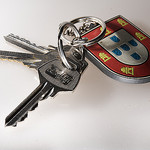 Lock up your caravan nice and tight this evening, was the message following yet another loss of a beloved tourer to thieves in South Lincolnshire.
The latest theft occurred late on November 17th when a tourer was taken from a property in the Draw Dyke region of Sutton St James, the Peterborough Telegraph reports.
On this particular occasion, a white 2003 edition two-berth Lunar Stellar vehicle was taken from the home, in what is the latest of a growing epidemic of caravan-related crime.
The previous day saw the attempted theft of another tourer based in the region, with the thieves only disturbed after a neighbour noticed them loitering around the vehicle-in-question. Because of this, you should always be covered with caravan insurance in case of any theft.
Police are now calling for assistance in helping to catch these criminals, while also requesting that those with caravans of their own ensure they put the right number of security measures in place to prevent further problems.
Last month law enforcement officials began the search for a man wanted in connection with the theft of a television and several other items in North Yorkshire.